Chaotic race to form Dutch coalition after narrow poll
With such a slim majority for the Liberal Party in the Dutch elections, the horse-trading to find potential coalition partners begins. The BBC's Geraldine Coughlan in The Hague assesses the options.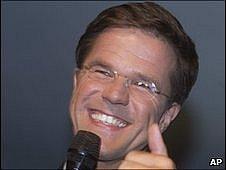 It turned out to be a long, exciting evening, with lively election parties in the streets, and crowded bars allowed to stay open until 0400.
There were collective gasps when the voters heard that the anti-immigration Freedom Party, the PVV, had more than doubled its seats in parliament.
It was tense until near the end.
It was a near tie between the two main parties - the centre-right Liberal VVD Party and the centre-left Labour Party, the PvdA.
But there was a clash of cheers and groans when it was announced that the Liberals had gained one seat more than Labour.
It means that Mark Rutte, the Liberal party leader, is set to be the first Dutch prime minister from his political camp since World War One.
He told Dutch TV how pleased he was, and said he would discuss the details of his policies later. He has pledged to slash the deficit, mainly by cutting welfare programmes and stimulating new jobs, reducing income tax and cutting benefits for immigrants.
But the leader of the Labour party, the former Amsterdam Mayor Job Cohen, has criticised this programme as harmful to the poor.
He wants to preserve government social programmes, raise taxes on the wealthy and make it easier for immigrants to integrate rather than punishing those that fail.
"We're not going to budget-cut the economy to death," Mr Cohen said. "We will make sure people keep their jobs. For that, you need politicians who work together on solutions, a Netherlands where everybody counts."
It will be interesting to see how these two parties, on opposite sides of the political spectrum, will be able to see eye-to-eye in a coalition government.
The main question is, who will they choose as their partners?
Coalition talks are always difficult in the Netherlands, even though it has a long tradition of coalition politics.
Because no party has an outright majority, the Liberals and Labour will have to forge a coalition with at least two other parties.
Experts say the results will create a chaotic race to form a coalition commanding a majority with at least 76 seats.
Neither the right nor the left appears able to put together a government without major compromise between rival ideologies.
The most likely coalition would be a left-right combination, known as a Purple Coalition - with the Liberals, Labour, and the smaller parties on the left, the Green Left and Liberal Democrats, D66.
Other possibilities might include the Freedom Party of Geert Wilders, who campaigned to stop immigration from Muslim countries.
Mark Rutte has not ruled out working with Mr Wilders, but Liberal insiders are quoted as saying they will not accept this.
Geert Wilders' polarising politics may be unacceptable to other parties, but his huge gains have put him in a strong position.
"We really want to be part of government, we want to participate. I don't think the other parties can escape us," Mr Wilders said. Other parties may try "to shove us aside, but we must be taken seriously".
Analysts say the Freedom Party would not make an acceptable partner in a coalition, because Mr Wilders faces a criminal trial later this year on charges of inciting hatred and discrimination with his anti-Islamic film, Fitna.
As I walked among the voters in the streets, watching the results on big screens, a few people stopped me, saying: "What a surprise that Geert Wilders got so many seats!"
Indeed, the results confounded the opinion polls, in which the Freedom Party has been lagging behind. Mr Wilders muted campaign to "Stop the Islamisation of the Netherlands", had apparently been overshadowed by pressing economic issues in the overall election campaign.
When Mr Wilders arrived with half-a-dozen bodyguards to cast his vote at a primary school polling station in a middle-class suburb of The Hague, he predicted that it would be an "exciting day" - while being booed by some parents.
Conflicting ideologies may be characteristic of Dutch coalition politics - but even the left-wing newspaper, De Volkskrant, says this will be a "nail-biting time" - with coalition talks likely to take several weeks, if not months.
Related Internet Links
The BBC is not responsible for the content of external sites.