Bradford murders suspect 'nearly killed himself'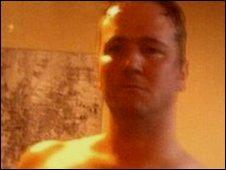 A man accused of murdering three women in Bradford came close to killing himself while on remand in Wakefield jail, a senior prison officer has said.
Stephen Griffiths, 40, who is accused of murdering Suzanne Blamires, Shelley Armitage and Susan Rushworth, was found in his cell on Wednesday evening.
Prison Officers' Association vice-chairman Tom Robson said Mr Griffiths would be under 24-hour watch after trying to suffocate himself. "Our vigilance saved his life," he said.
Mr Robson said Mr Griffiths was being assessed in a secure cell in the prison's hospital accommodation, but was not on constant watch.
"This cell would have been on a regular patrol and he was found very soon after making this serious attempt to end his life," said Mr Robson added.
"He will now be under 24-hour surveillance and unlikely to do it again."
The Ministry of Justice confirmed that a prisoner from HMP Wakefield was treated after an incident on Wednesday.
It said he did not need hospital treatment.
A spokeswoman for the Ministry of Justice said: "We can confirm that a prisoner at HMP Wakefield received treatment in the prisoner care wing following an incident of self-harm."
No details were given about the severity of the injuries.
Mr Griffiths, a mature student, of Thornton Road, Bradford, has appeared in court accused of murdering Ms Blamires, 36, between 20 May and 25 May; murdering Ms Rushworth, 43, between 22 June, 2009, and 25 May this year, and murdering Ms Armitage, 31, between 25 April and 25 May this year.
Related Internet Links
The BBC is not responsible for the content of external sites.