Musicians aim to put double bass in solo spotlight
For centuries, the massive double bass has thundered away in a supporting role at the back of the orchestra. As some of the world's top bassists meet for an inaugural solo contest in Texas, the BBC's Daniel Nasaw talks to the musicians working to put the instrument in the spotlight.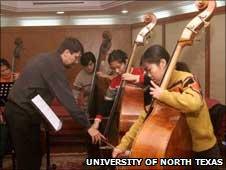 It is the size of a small rowing boat, with strings so long and thick they look like they belong on a winch.
Its pitch is so low it challenges the limits of human hearing, and while the violin, cello and piano are renowned for their solo range, the double bass has largely been limited to providing an unglamorous but necessary foundation in symphonic works, operas and concerti.
But this week in Texas, some of the world's finest double bass players will participate in what they say is one of the highest-profile efforts yet to bring respect to the bass as a solo instrument.
At the inaugural International Double Bass Solo Competition, held at the University of North Texas near Dallas, they hope to bring much needed attention to the instrument and its repertoire - not to mention its top soloists - after centuries of being kept from the front of the stage by the traditional virtuoso instruments.
"Most people haven't heard the bass, and when they do they're amazed at what a beautiful instrument it is," said Jeffrey Bradetich, a prominent double bass performer and teacher who organised the competition.
"We have great artists on our instrument, we just haven't had enough opportunity that we need to make that dent in the public consciousness."
The competition's musicians and organisers are building on recent advances in bass teaching, technology and repertoire to promote solo bass.
For centuries during which the great composers wrote concerti and unaccompanied suites for piano, violin, cello and other instruments, the double bass was left behind.
Johann Sebastian Bach, for instance, wrote masterpieces for unaccompanied violin and cello, and works for solo piano fill entire libraries, but "there was a long period of history that left the bass out", Bradetich said.
The gut strings used on the instruments until the mid-20th century did not produce enough sound to project into a room. With little sound capacity and a slim repertoire, the bass was slow to develop into a virtuoso instrument.
But in recent decades, led in part by musicians like Bradetich, solo bass has seen a modest surge - and the steel strings in use since the 1960s give the instrument a more robust tone.
Composers like Edgar Meyer and Francois Rabbath have written and recorded works for solo and unaccompanied double bass, and solo bass pedagogy has made great strides, bassists say.
"Going back 20 to 30 years ago, there are so many players who are learning all kinds of repertoire that has never been done before," said Ira Gold, a bassist with the National Symphony Orchestra in Washington and competitor in Texas.
"The instrument is taking on a whole new identity, which is exciting for the instrument and for the people who are involved."
But even now, bassists have limited opportunities to take part in solo competitions and perform solo works, in part because of the expense and difficulty of transporting the massive instrument, said Orin O'Brien, bassist with the New York Philharmonic and a teacher at New York's Juilliard school.
"It really is painful and difficult unless you are travelling with an orchestra," she said.
And many bass players admit they remain dissatisfied with the paucity of solo compositions, with some transcribing works for cello, piano and violin into the bass range.
"Let's face it," O'Brien said, "our basic repertoire is not as first-class as violin, cello and piano repertoire."
Among the things that sets this competition apart from previous ones, bass players say, is that in addition to hefty cash prizes, the top three competitors are to receive recording, master class and performance opportunities and help with developing their careers.
The winners will be expected to act as ambassadors for the solo instrument.
"We want to draw attention to the bass, and through that to these particular winners," Bradetich said.
"We will support all three winners and then to get them out there where they can be heard more.
"The bass begins to take a larger role in the solo community and more opportunity is presented to the next generation, until the bass is not thought about as just a background instrument."
But given that the instrument and its repertoire have centuries of catching up to do, some bassists doubt whether these efforts will result in swift success.
"Raising the profile of double bass as a solo instrument, you may be fighting a losing battle," said Max Zeugner, the newly appointed principal bassist for the BBC Philharmonic, who is also competing in Texas.
Related Internet Links
The BBC is not responsible for the content of external sites.