UK cuts 'to push unemployment close to 3m'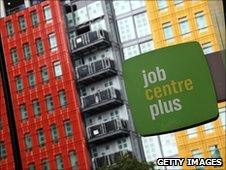 Government spending cuts will push UK unemployment up from its current 2.5m to almost 3m, a report has warned.
Deficit reduction would also stall recovery in the jobs market, employment group the Chartered Institute of Personnel and Development (CIPD) said.
There was little prospect of real wage growth until at least 2015, and public sector workers faced pay cuts, it said.
The chancellor is expected to lay out sweeping cuts to try to trim the £156bn deficit in his budget on 22 June.
And the business group the CBI has called for £4 in spending cuts for every £1 in tax hikes.
It warned that the public finances should be repaired without damaging growth prospects, calling for a shake-up of public services provision to save money through job cuts and sharing back office functions.
"A radical re-engineering of public services is a must if damaging tax rises are to be avoided. Only an effective cost reduction strategy can safeguard future growth," CBI deputy director-general John Cridland said.
The CIPD had earlier suggested that the jobless total would reach 2.65 million this year.
But chief economic adviser John Philpott said he had now revised up his forecast, saying unemployment would climb to 2.95m in the second half of 2012, and remain close to that level until 2015.
About 500,000 public sector jobs would go in that period, Mr Philpott predicted.
Unemployment is currently 2.51m, according to the latest official figures.
Chancellor George Osborne has identified £6.2bn of savings and outlined cuts to quangos, spending on consultancy and big IT projects and a civil service recruitment freeze.
The drastic cost-cutting, while necessary, would have serious knock-on effects for many in the UK, Mr Philpott said.
"Although tough fiscal medicine is unavoidable and may boost the UK's long-run economic growth and job prospects, reliance on cuts in public spending rather than tax increases as the primary means of cutting the deficit makes the short-term outlook especially bleak for those individuals and communities already suffering the greatest hardship in society.
"Given what we know historically about the way in which the social burden of unemployment and stagnant average income growth is shared across individuals and communities, the prospects for those already suffering the most disadvantage seem particularly bleak."
However, others seem to support the prospect of fast cuts.
On Tuesday, the credit rating agency Fitch said the UK deficit must be reduced more quickly than set out by the former Labour government in April, and noted that the new coalition government had acted "very quickly".
And outgoing Marks and Spencer boss Sir Stuart Rose has said the government had taken "very sensible action".
Related Internet Links
The BBC is not responsible for the content of external sites.