Italian bill to limit wiretaps draws fire
Italy's government is pushing a bill through parliament that would curb wiretapping, saying the measure is necessary to protect privacy. But opposition politicians, magistrates and the media are deeply opposed to the bill, as Duncan Kennedy reports from Rome.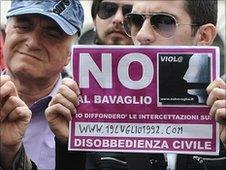 Privacy versus the right to know, the circle that few democracies square to the complete satisfaction of all their citizens.
Italy is the latest country to grapple with this conundrum. Getting the right balance has been at the heart of the debate surrounding a new law before parliament.
The law is about wiretapping - where, why and when taps can be used, and who can benefit from them.
The ministry of justice says that in 2008, the latest year for which figures are available, 124,326 phone taps were authorised.
The authoritative Max Planck Institute has calculated that in 2006, 76 out of every 100,000 Italians had their phones tapped. The next nearest European country was the Netherlands, with 62 out of every 100,000, followed by Switzerland with 32 people out of every 100,000.
Supporters of the wiretapping bill say that if you count all those with whom the people that have their phones tapped are speaking, millions of Italians have had their conversations listened to.
It all makes Italy the eavesdropping centre of Europe.
Led by Prime Minister Silvio Berlusconi, the government argues that magistrates and prosecutors are ordering too many taps, and newspapers and other media are publishing too many of the results.
It has created what Mr Berlusconi has inelegantly called "porno politics", where, he says, investigations and reputations are ruined long before any judge or jury has had a chance to deliberate.
Mr Berlusconi says the new law is about defending privacy "100%".
But police, prosecutors, publishers and opposition parties all say it goes too far, as it would inhibit investigations and limit the media's ability to report on matters of public interest.
The government says there are simply too many intercepts being sanctioned, and the penalties for leaking them are too weak.
"The magistrates are out of control," says Giorgio Stracquadanio, a lower house member of parliament in Mr Berlusconi's People of Freedom party (PdL).
"They are launching too many probes with little or no evidence of actual criminal wrongdoing."
Though a journalist himself, he has this broadside for his fellow practitioners.
"Journalists in Italy are lazy. In few other countries are they handed the contents of wiretap transcripts so routinely as they are here.
"It means they don't do proper journalism, like making contacts with people."
He notes that the Watergate scoop that brought down former US President Richard Nixon was not achieved through wiretaps.
Mr Stracquadanio acknowledges that there are other cases in Italy, including investigations against organised crime, where wiretaps have proved vital in helping magistrates do their work and journalists report on what was happening.
But he adds: "Most of what gets published is the gossip from intercepts, not the serious material."
Mr Stracquadanio is a firm supporter of the new penalties being proposed for leaking the tapped material.
Magistrates would only be able to carry out intercepts for up to 75 days (with a short extension possible on top of that), and not the 18 months or so that some investigations now last.
And publishers could face fines of up to 465,000 euros (£384,000; $563,000) for reporting the content of wiretaps, while the journalists involved would risk jail.
Mr Berlusconi denies any personal interest in this affair, though he and his ministers have been the subject of wiretap inquiries themselves.
In a recent case, the industry minister, Claudio Scajola, resigned over allegations involving building contracts, after newspapers reported the contents of court documents that were, in part, based on wiretaps.
Newspapers have highlighted this as an example where it is in the public interest to publish, whilst government supporters say Mr Scajola has been driven from office before anything has been proved.
Opponents of the new law have assembled their own array of arguments.
One of Italy's most important anti-Mafia magistrates, Piero Grasso, told the BBC that he had lobbied the government to amend the proposed law as it would, in his words, "diminish the ability" of the authorities to do their job, including fighting organised crime.
In its defence, the government has said the law will not affect serious crimes such as those concerning the Mafia and terrorism.
However, Gianfrancesco Turano, an investigative journalist from L'Espresso magazine, says that having fewer taps with more restrictions would be "devastating", pointing to Italy's notoriously slow judicial system.
"In Italy legal proceedings can take years, so does that mean we will have to wait a decade until cases get to court, before we can report on matters of public interest?" he asks.
"Yes, there have been excesses by some newspapers, but this is how the system works in Italy, and to stop us getting access to the transcripts or intercepts would do harm to the freedom of the press."
Magistrates and, to a lesser extent, journalists, recently won some support for their case from an unexpected quarter, the US government.
On a visit to Rome last month, US Assistant Attorney General Lanny Breuer was quoted as saying telephone recordings were "essential" for organised crime investigations.
"Obviously from a prosecutors point of view, you don't want anything to occur that prevents the Italians from doing as they've done in the past", when they were "extraordinary partners" in US Mafia investigations, he said.
While the new law is expected to satisfy those in search of greater privacy, it is likely to be challenged, possibly in the European Court of Human Rights, by those who believe it is a hindrance to law enforcement and a gag on how much the public can and should know.