Birmingham Children's Hospital is 'improving'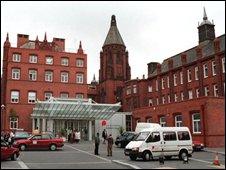 Birmingham Children's Hospital "has more to do" as it strives to improve performance, a health watchdog said.
However, the Care Quality Commission said "significant progress" had been made since a report raised "deep concerns".
There is more work to be done in managing capacity and how children needing urgent surgery are prioritised, it said.
The hospital has said it welcomes the latest report.
In March 2009 the Health Commission published a report saying it was "deeply concerning" that "serious concerns" had been raised about clinical care for several months but they were not "properly" or "rapidly" addressed.
Andrea Gordon, West Midlands regional director for CQC, said the hospital faced challenges meeting the rising demand for its services.
"There is no question the trust has made significant progress, particularly in the way it works with University Hospitals Birmingham and in providing more staff some specialist services.
"But there is more to do in managing capacity and improving the way it prioritises children needing urgent surgery."
The hospital had previously been set 12 targets to meet. The report said it had met six of them and made progress in the remaining six.
These include monitoring demand and capacity for services, improving admissions and bed management and managing demand and service provision.
It also still needs to improve the way it organises capacity and theatre cases, reviewing night staff arrangements and implementing a model of care for delivering high quality paediatric services.
The hospital said it had made progress by investing in new medical equipment, organising more theatre sessions and working with other hospitals in the area to support nursing staff.
It had also increased the number of intensive care beds and increased the number of theatres.
Chief executive Sarah-Jane Marsh said changes in clinical leadership had made a big difference. The former chief executive resigned ahead of last year's report.
"Of course, there is still more to do to ensure we are there for every child who chooses and needs to use our services, and our investment plans will go a long to achieving this," she said.
Related Internet Links
The BBC is not responsible for the content of external sites.