David Laws tries to set record straight on finances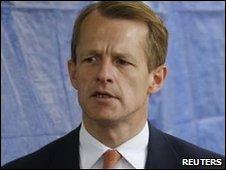 Former chief secretary to the Treasury David Laws has hit back at critics who questioned why a millionaire was claiming expenses for a second home.
It was widely reported that Mr Laws had made a fortune in the City before becoming an MP.
But writing in his blog, the Lib Dem MP for Yeovil said the money had long gone.
Mr Laws resigned from the coalition government after admitting claiming expenses to pay rent to his partner.
His departure - after 16 days in the job - was greeted with regret by Prime Minister David Cameron, who hinted at a possible return to front-line duties in the future.
Mr Laws said he could not "escape the conclusion that what I have done was in some way wrong" after Daily Telegraph revelations about his expenses.
The newspaper reported that between 2004 and 2007, he claimed between £700 and £950 a month - about £40,000 in total - to sub-let a room in a flat in Kennington, south London, from his secret long-term partner, lobbyist James Lundie.
He has since admitted he had claimed allowances since 2001 - meaning the total is likely to exceed £40,000.
Since 2006, parliamentary rules have banned MPs from "leasing accommodation from a partner" but Mr Laws said he had wanted to keep his relationship with James Lundie private.
He has now admitted in his internet blog that the revelations about his sexuality has been a blessing in disguise.
"Losing my privacy and revealing my sexuality has not proven to be as painful as I expected, after the initial trauma," he writes in a blog entry.
"It will be wonderful that I can now introduce the person I love and value above all others to my family and friends. I shall always be grateful to the Daily Telegraph for that!
"I will also be able to set a much better example, as a public figure, to my constituents and to those others struggling with their own identities."
He said losing his job as chief secretary was a "tough blow to take" but that "no-one is irreplaceable".
He adds: "It is the blow to my self-respect and perceived integrity that I find hardest to take.
"It is difficult for people to understand that my financial arrangements were based on my desire for privacy, not any intention to exploit the expenses system.
"If I had wanted to maximise my claims, I could have designated my Somerset home, which has a huge mortgage on it, as my second home.
"Or James and I could have bought together in London, and I could have charged the mortgage and other items to parliamentary expenses.
"All of these options would have been more financially beneficial, but all would have risked ending the privacy which I so valued."
He added: "As for those who continue to wonder why a "millionaire" should need to claim expenses at all, I am afraid to say that the money I earned in the City was exhausted a long, long time ago.
"After I left my well-paid City job I worked for five years for the Lib Dems on around £14,000 per year, and after being selected here as Parliamentary candidate I worked for two years with no income at all."
He said he would now try to "pick up the pieces of my life and rebuild" and he expressed gratitude for the messages of support he had received, adding "many of these have moved me to tears".
As well as resigning from his cabinet role, he said he would pay back the £40,000 he had claimed. Mr Laws has referred himself to the parliamentary standards commissioner.
Related Internet Links
The BBC is not responsible for the content of external sites.