Invigilation technology allows exams be taken anywhere
By Katherine Sellgren
BBC News education reporter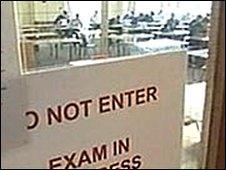 Forget the dread of queuing up outside the exam hall with everyone else bragging about how much - or how little - revision they've done. How about taking exams in the comfort of your own room?
New technology, boasting anti-cheating software, could soon make this a possibility.
Developed by American firm Software Secure Inc, the programme operates through a stand-alone device which is plugged into a student's computer.
The technology takes a fingerprint of the student to verify they are who they say they are before access to the exam is allowed.
A webcam and microphone are also switched on to detect changes in motion, such as someone entering the room or sound, such as a phone conversation.
The device also "locks down" so that the student cannot search the internet for answers or access their own files for notes.
The University of Wales Institute in Cardiff is one of the institutions evaluating the software to see if it could be viable for some of their students.
Mark Pelling, senior learning development officer at the university, said the software could be a very effective way of invigilating exams.
"I can't see it changing the face of exams completely - there are still situations where you want to have people in a hall - but in some situations it could be valuable, it adds an extra facility for the disabled for example.
"Nothing is 100% secure, even traditional examinations aren't, but it does add an extra dimension."
The National Union of Students gave the device a cautious welcome.
NUS President-elect Aaron Porter said: "This does seem like it could be one solution to problems faced by those who might have difficulty reaching a university campus for their exams, such as disabled students or long-distance learners.
"But it must not be used as an excuse to further cut costs or corners by reducing the amount of contact time students have with staff.
"No technology is completely infallible and it is crucial to ensure the fairness and integrity of assessment is maintained for all students."
Software Secure said: "Securexam Remote Proctor enables schools, corporate training, and testing organisations to administer computer-based tests anywhere, anytime, while still maintaining the same exam room integrity as that found in a proctored testing centre."
Related Internet Links
The BBC is not responsible for the content of external sites.