RSPCA inspector rescues 'Houdini' dog twice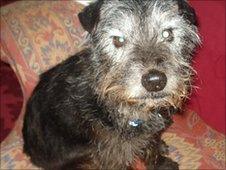 A terrier with a nose for trouble has been rescued twice by the same RSPCA inspector in two separate incidents.
Scruffy was rescued in Merthyr Tydfil earlier this year, then involved in a road collision near Swansea.
The dog, nicknamed Houdini, had got onto the road after squeezing through a cat flap at home, jumping onto a wall, then scrambling through a dense hedge.
RSPCA inspector Julie Fadden, who was involved in both incidents, said Scruffy was a "very lucky dog".
She was called to West Street in Gorseinon following 12-year-old Scruffy's brush with death on the road, and recognised the dog from a rescue earlier in the year.
Scruffy had been removed from a house in Merthyr and taken to the RSPCA's Llys Nini centre near Swansea.
New owners were found in Gorseinon and the black and grey dog moved into his new home at the end of last month.
But a few days later, Scruffy's new owner Sue Overment left her house for a short time only for the dog to escape and go wandering in the road.
She said: "We had everyone out searching and scouring the area looking for Scruffy.
"We didn't hear he was found until 10pm and we picked him up from the back of an RSPCA's inspector van.
"He looked really laid back without a care in the world. He's such a determined little mutt, we should rename him Harry Houdini."
Scruffy had been taken to a vet for tests but was not seriously hurt.
Ms Fadden said: "Scruffy is a very lucky dog and I was delighted to be able to return him to his new owners.
"This job is never boring but I can't remember rescuing the same dog twice from different parts of south Wales."
Related Internet Links
The BBC is not responsible for the content of external sites.