Push to end US maternal deaths 'crisis'
By Jane Dreaper
Health correspondent, BBC News, Washington DC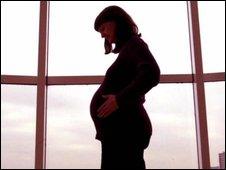 US campaigners say recent health reforms will take time to bring down deaths resulting from pregnancy or childbirth.
The US has a higher rate of maternal deaths than 38 other nations - including Greece, Albania and the UK.
At the Developing Families Center (DFC), which works with deprived families in the north-east of the city, staff and volunteers help women during their pregnancies and in the vital early years of child-rearing.
It is important work - especially as the District of Columbia has the worst rate of deaths among mothers of all US states.
Every day in the US, at least two women die - either during childbirth, from problems such as haemorrhage - or because of pregnancy-related complications, like pre-eclampsia.
Health officials estimate half of these deaths are preventable.
And although strides have been made, they also admit that the recording of the problem could be improved.
DFC's founder Ruth Lubic is still working hard at the age of 83.
She told me: "The housing here is poor. Most homes are run by women.
"Life expectancy for men in this area is 56 years - that's worse than Kenya. People have a tendency to feel trapped.
"Policy makers don't really seem interested in the fact that people in the District of Columbia have the worst outcomes in the country."
DFC says it saves healthcare costs and improves lives - by offering low-intervention childbirth and high quality care which has helped reduce problems such as premature delivery.
Yet fundraising is needed for half the centre's income. And staff say the recent US healthcare reform won't improve matters quickly.
The general director, Cynthia Flynn, said: "Unlike hospitals, birth centres don't necessarily get paid for all the women who attend.
"There's a statement in the healthcare reform that says birth centres like ours should get paid.
"But achieving that will require legislation in 50 states. There's a huge amount of work to be done - and that's just one tiny thing.
"And what was passed is just a fraction of what needs to be done to get us up to the level of most developed countries. We don't really have a healthcare system here."
Gaps in insurance coverage and poor health in black and Latin American communities play a part in the high level of maternal mortality in the US.
But with standard post-natal care comprising just one check-up visit to a doctor, six weeks after giving birth, educated white women can become victims too.
Amnesty International USA has compiled a report on the problem, called Deadly Delivery, and the human rights group is continuing to press for action.
Research director Rachel Ward said: "The US government has received our report and is reviewing it right now.
"We've delivered a petition of 45,000 signatures to the Department of Health and Human Services, asking them for a more co-ordinated and systematic response to this issue by creating an office of maternal health.
"We asked who takes responsibility for this crisis. The short answer is - everybody and nobody. That has to change."
Related Internet Links
The BBC is not responsible for the content of external sites.