Falmouth's Sea Shanty Festival not granted licence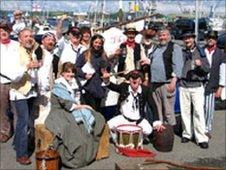 Falmouth's Sea Shanty Festival has not been granted an entertainment licence - because organisers missed the deadline.
The annual festival, jointly run with the RNLI and due to be held from 18 until 20 June, attracts hundreds of singers from all over the world.
However, organisers said they hoped the free annual event - the eighth to be held - could partially go ahead.
Cornwall Council said the licence for music was not granted because it received the application too late.
The event, which has stages at Custom House Quay and the Moor piazza, brings thousands of visitors to the town and has raised more than £30,000 for the RNLI.
Organiser John Warren said it was known that police got copies of the application in time but Cornwall Council received it about four days late of the 10 working-day notice period it required.
He said: "For some reason we think there might have been because of insufficient stampage on the envelope, but there is no point in recriminations.
"What we're asking is if there any possibility that the council, with a week to go, might reconsider."
Some acts will be able to use a stage in Event Square because it is licensed as part of the Falmouth Boat Show, but Mr Warren said it would still mean a reduction in the size of the festival.
He said: "What we're going to be forced to do now is reduce the size of the event. We'll have to force the groups to sing indoors in premises that already have an entertainment licence."
Cornwall Council said the application was received too late.
It said: "The licensing authority has no discretion under the Licensing Act 2003 in these circumstances and so is unable to authorise performances at those sites.
"Performances planned at other venues around the town are not affected."
The RNLI said lessons had already been learnt ahead of next year's festival.
Related Internet Links
The BBC is not responsible for the content of external sites.