High winds force Row for Heroes pair to take break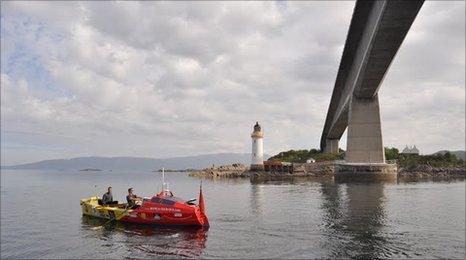 Two Army doctors trying to set a world record by rowing around Great Britain are catching up on sleep while they shelter from bad weather.
Row for Heroes pair Nick Dennison and Hamish Reid are 20 miles south of Cape Wrath in the north west Highlands.
High winds have forced them to take shelter on a small island, but it has allowed them to get 10 hours sleep for the first time since setting off.
Capt Dennison said until now they had managed two to three hours rest.
The pair set off from the south coast of England and hope to set the record for rowing around Great Britain and also raise money for Help for Heroes and The Army Benevolent Fund.
Capt Dennison said: "We've been taking turns at rowing whenever the conditions are favourable and regardless of the time of the day.
"You're head is flopping all the time because you are tired and Hamish fell off his seat the other day after he fell asleep at the oars."
The men who have worked as junior doctors with the NHS have also been researching the amount of calories they burn along the way.
Hoping to meet their target of completing the row in 45 days, they took with them enough food for 60 days and also have a solar-powered water maker.
They have just passed the half way mark on their journey.
Capt Dennison said: "We have had some incredible days off the Scottish coast, though we both had to take to the oars going through the Summer Isles because of the wind.
"Passing under the Skye Bridge we were followed by eight seals and we have had basking sharks checking us out."
Related Internet Links
The BBC is not responsible for the content of external sites.