Nato helicopter shot down in Helmand in Afghanistan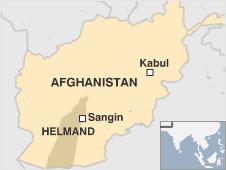 Four Nato soldiers have been killed as their helicopter was shot down in Helmand province, southern Afghanistan.
Nato said the aircraft was hit by "hostile fire". The troops were Americans, said US military spokesman in Kabul, Lt Col Joseph T Breasseale.
The helicopter crashed in the Sangin district, said provincial government spokesman Dawood Ahmadi.
The Taliban claimed its fighters had shot down the aircraft with a rocket-propelled grenade.
Taliban spokesman Yousuf Ahmadi said it had been brought down in the Sangin district bazaar on Wednesday morning. "We brought it down with a rocket," he told AFP news agency.
A number of Nato helicopters have been shot down in Afghanistan since the alliance sent troops into the country in 2001.
The BBC's Martin Patience, in Kabul, says conditions are particularly dangerous for the aircraft when they come in to land and then take off, as they are more susceptible to gun or rocket fire.
The crash brought to five the number of Nato soldiers killed in the south of the country on Wednesday. The military announced earlier that another soldier had been killed by a roadside bomb.
More than 20 Nato soldiers have died this week, including 10 on Monday, when US-led forces in Afghanistan had their deadliest day in two years.
Wednesday's deaths came as US defence secretary Robert Gates said he expected to see signs of progress in a counter-insurgency strategy "by the end of the year".
Speaking in London on Wednesday, Mr Gates said there were "no illusions" about quick victories and warned it would be a "tough summer", AFP reported.
Meanwhile, gunmen attacked an Afghan-bound Nato convoy overnight near the Pakistani capital, Islamabad, killing at least seven people and setting several vehicles on fire.
The shooting down of the helicopter comes amid an upsurge of violence in the volatile south of Afghanistan.
Nato is preparing for a major operation in the province of Kandahar - the heart of the Taliban-led insurgency - this summer.
An offensive earlier in the year in neighbouring Helmand province has been hailed by Nato and Afghan officials as a success.
But recent reports from the town of Marjah, the focus of the offensive, speak of continuing violence and Taliban intimidation.
The Afghan Red Crescent says hundreds of refugees have fled violence in the Marjah area in recent weeks.
Displaced people turning up in the provincial capital Lashkar Gah told the BBC they had left Marjah because of fighting between the Taliban and foreign and Afghan security forces.
An Afghan Red Crescent official said about 500 families had arrived in Lashkar Gah in the past month.
Related Internet Links
The BBC is not responsible for the content of external sites.