Drinks warning for Borders common ridings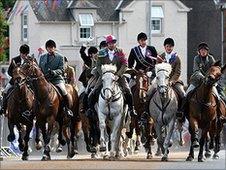 Licensed premises in the Borders have been warned not to fall foul of drinking laws in common riding season.
New legislation restricts the sale of alcohol to be taken off premises before 10am and after 10pm.
Even pubs granted an extension to their hours cannot allow drinks to be consumed elsewhere outside those times.
Scottish Borders Licensing Board (SBLB) said there was "no discretion" in the legislation and is writing to licensees to remind them of the law.
The common ridings have taken place for centuries in numerous towns across the south of Scotland.
They see hundreds of people inspecting historic boundaries while on horseback.
Many pubs, hotels and bars traditionally open early in the day as part of the celebrations.
However, they could now face a £1,000 fine if people take drinks outside their premises before 10am.
SBLB convener Gavin Logan said it had been working with police to highlight this section of the Licensing (Scotland) Act 2005.
"There is no discretion in relation to this part of the legislation and prosecution may follow if premises are found to be in breach of their licence," he said.
"We are suggesting that appropriate signs are displayed to remind customers that they cannot take their drinks off the premises before 10am or after 10pm.
"If this has happened in the past, licensees may consider appointing stewards to remind customers that they are no longer allowed to do this."
Related Internet Links
The BBC is not responsible for the content of external sites.