Petraeus warns Afghan mission will fail without UK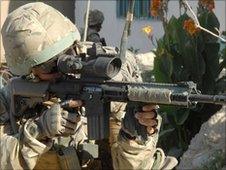 The Nato coalition in Afghanistan could not succeed without Britain, the commander of US operations in the Middle East has said.
Gen David Petraeus said the UK-US alliance was at the core of efforts to fight extremism in the region.
At a speech in London, he singled out UK special forces for their "world-class counter-terrorism expertise".
Earlier, the Ministry of Defence denied claims Britain sent troops into Helmand with "eyes shut and fingers crossed".
The US general used a speech to a Royal United Services Institute conference to acknowledge that the UK was facing "tough choices" about where to deploy resources.
But he argued that Britain and the US had "considerable mutual objectives" in continuing operations to fight common threats in the Middle East and south-west Asia.
"It's clear that, as was the case in Iraq, the scale of the British contribution in Afghanistan is such that the coalition cannot succeed without you," he said.
He added that there was an "inherent and abiding trust" between the British and American militaries.
"The US-UK alliance formed the core of our operations in Iraq, and continues to form the core of the operation in Afghanistan and beyond.
"UK forces are, of course, in the thick of the fight in some of the toughest places in Afghanistan, while UK officers are serving in integral leadership roles throughout Isaf and its subordinate commands," he said.
Britain has about 10,000 troops in Afghanistan, including some 500 special forces.
On Tuesday, UK Defence Secretary Dr Liam Fox said British troops would stay until Afghanistan was "stable enough" to ensure internal and foreign security.
Nato commanders had discussed moving the UK's forces in Helmand to neighbouring Kandahar province when Canada pulls out its contingent there next year, but Dr Fox said this was "highly unlikely".
And earlier in the week, Prime Minister David Cameron restated his support for American strategy in Afghanistan during talks with US Defence Secretary Robert Gates.
In an interview in the Times newspaper however, Maj Gen Andrew Mackay, a former commander in Helmand, said the previous Labour government had a "complacent" approach to the Afghan mission.
"The genesis of this approach is born of complacency, the thought that 'we can deal with it as and when it happens'," he said.
"It resulted, I believe, in the upper echelons of government going into Helmand with their eyes shut and their fingers crossed."
But the MoD insisted the campaign "followed careful analysis" and had helped combat a "resurgent" Taliban.
In all, 293 British servicemen and women have died in the country since 2001.
On Tuesday, another British soldier died during a gun battle in Helmand. The soldier was from 3rd Regiment Royal Horse Artillery, attached to 4th Regiment Royal Artillery.
Related Internet Links
The BBC is not responsible for the content of external sites.