Why has controversy followed the new curriculum?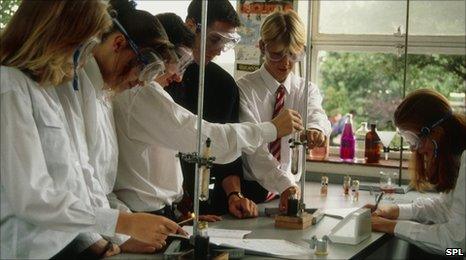 In the final part of a three part series looking at the new curriculum in schools, BBC Scotland's education correspondent Seonag MacKinnon looks at why it has become so controversial.
One harsh commentator has gone so far as to describe the new curriculum as "neo-Hippy guff".
Most would concede that over many years it has been challenging to discern what the "curriculum for excellence" is exactly, but some teachers believe it is all the better for not being structured and clear-cut.
They welcome their new freedom to teach what they consider important and relevant to the children in their particular school.
They believe their job will become more creative and rewarding.
As one put it: "We will, as teachers used to be, be kings and queens of our classrooms. It won't be civil servants in Edinburgh determining what is taught everywhere."
Most staff believe children will be more engaged at school because they won't be put through a "one size fits all" series of lessons.
However, critics have expressed concern at the extent of teachers' autonomy.
It is said that as staff will no longer work to national guidelines, children will become more dependent on the calibre of their individual teachers. Some may be more able than others to conjure up interesting and relevant lessons.
It is also argued that the curriculum is at one level "Philistine" as children will be expected to acquire less knowledge.
Already it is said to be of concern how many school leavers seem uncertain about elementary facts such as the capital of the US and the significance of Bannockburn.
Supporters reject this argument saying less is more. Pupils will learn fewer topics but spend more time on them and learn them in more depth.
The sketchy but copious documentation on the curriculum from the Scottish government and its agencies over the best part of six years, has been one of the main criticisms.
One senior education figure said: "If the organisers of the curriculum for excellence are consistently unable to explain what they're doing I don't have confidence that they know what they're doing."
Teachers certainly asked for more autonomy - a trend happening around the world - but some maintain the pendulum has in Scotland swung too far.
Some staff say they are working in a near vacuum without a clear indication of what lessons will ensure pupils thrive and do well in eventual exams.
The education secretary has announced more than 10 measures designed to tackle problems.
For example the curriculum is being rewritten and in an unprecedented move school inspectors are after the summer to be taken away from their normal jobs to help establish the curriculum in schools.
Over the coming months it should become clear whether problems amount to teething problems - or are something of far greater concern.
Related Internet Links
The BBC is not responsible for the content of external sites.