BA strike: Unite union prepares for new strike ballot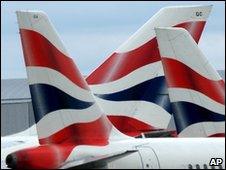 The Unite union has confirmed that it is preparing to ballot its members again on further strike action at BA.
Unite, which represents BA cabin crew, said the legal protection granted to employees who go on strike lasts for 12 weeks and will expire on 11 June.
Its comments come as cabin crew near the end of the final day in the last of a series of five-day walkouts.
BA boss Willie Walsh has said he will hold out against striking cabin crew members "for as long it takes".
Unite has been involved in a long-running row with the airline which began over staffing levels and working conditions.
But the union says the main outstanding grievance now is the removal of travel concessions for those who went on strike.
Unite could legally call another strike under its existing mandate, but as its members would not be entitled to legal protection against repercussions from management it said it would not expose them to that risk.
Wednesday is the 22nd day of strike action this year in the dispute.
The conciliation service Acas has said a date for peace talks to resume is likely to be set shortly.
Unite says there has been "huge disruption" to flights during the strike.
But BA says it has continued to run a good service during the latest walkout, saying more crew than previously had turned up for work.
It has been aiming to operate about 80% of long-haul flights from Heathrow, up from 70% and 60% during the previous two five-day strikes.
The percentage of short-haul flights operating from Heathrow was up to 60%, from 55% and 50% respectively, it added.
On Tuesday, cabin crew told MPs that the airline was currently gripped by a "climate of fear".
MPs signed a House of Commons motion expressing "deep concern" there had been no settlement to the dispute.
Related Internet Links
The BBC is not responsible for the content of external sites.