BMW plans 'substantial investment' at Oxford Mini plant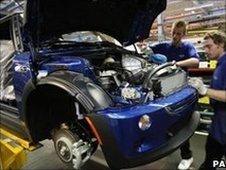 BMW has announced plans for a "substantial investment" in its car-making plant in Oxford.
The company said it was part of a strategy to secure the long-term future of the site at Cowley, but would not create any more jobs.
It wants to expand the plant in preparation for a new, third generation, model of the Mini.
If the plans are approved, construction work will start next year and take at least two years to complete.
In a statement, the BMW Group said: "We are in the process of preparing a planning application for Oxford City Council that would give Mini Plant Oxford turnaround space for the next generation of Mini.
"The scheme will involve substantial investment in the plant's facilities in preparation for future Mini models and is part of a strategy to ensure the long-term future of the plant."
BMW said the proposed development would not result in any new car-making jobs but it would create more turnaround space.
Without this, production at Oxford would have to shut down for up to nine months to bring in the new equipment needed for the next generation of cars, it said.
The public can view the plans during information sessions at the plant on Wednesday and Thursday between 1500 BST and 2000 BST.
Related Internet Links
The BBC is not responsible for the content of external sites.