South Korean rocket launch delayed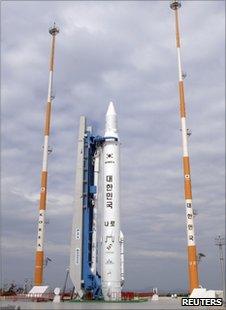 South Korea has delayed the launch of a rocket to put a satellite into space because of fire safety problems, officials say.
Controllers had planned to launch the Korea Space Launch Vehicle 1 (KSLV-1) between 1630 and 1840 (0730-0940GMT) from the Naro Space Centre in Goheung.
But the operation was postponed shortly before the scheduled blast-off.
This is South Korea's second attempt to put a satellite in space, after a launch in August 2009 failed.
It will up the ante in what some observers have described as an "Asian space race".
China, India and Japan have developed a launch capability; China has also sent three manned missions into space.
The delay was due to problems with the rocket's fire extinguisher system, Yonhap news agency reported, citing officials.
A spokesman for the Ministry of Education, Science and Technology said engineers needed to check the problem "in detail", the agency said.
It is not clear when the launch will take place, but the spokesman said the countdown was unlikely to resume on Wednesday.
When it does go ahead, the part-Russian, part South Korean rocket will launch a 91kg (200lb) test satellite called the Science and Technology Satellite 2B (STSAT 2B).
The rocket stands 33m (108ft) tall and will be launched from the country's new spaceport on the southern tip of the Korean peninsula.
South Korea's first launch of the two-stage KSLV-1, in August last year, failed to place its satellite payload into the proper orbit.
Four months previously, an attempted space launch by North Korea was deemed to have failed when the US reported that both rocket stages had fallen into the Pacific Ocean.
The North's launch was seen as a cover for a long-range missile test, but all of South Korea's immediate neighbours accept that its attempt is part of a peaceful civilian programme.
Related Internet Links
The BBC is not responsible for the content of external sites.