East Midlands Airport's £4m fake goods haul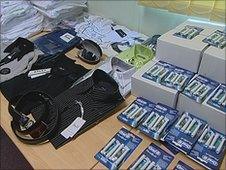 Counterfeit goods with an estimated retail value of £4m were seized from East Midlands Airport last year.
Imitation designer hair straighteners and computer games were among the most common finds in the 2009 haul, customs officials said.
The UK Border Agency said the goods were often dangerous and the proceeds can fuel organised crime.
Officers warned the public if the price of a designer item seemed too good to be true, it probably was.
The agency said most of the counterfeit goods were intended to be sold either through internet auction sites or at car boot sales.
It said the £4m of goods seized in 2009 was double that of the previous year.
The most recent seizure was of 1,000 England football shirts, designed to exploit the World Cup market.
Steve Terry from the UK Border Agency said: "Most of these goods have not had to go through safety tests which are compulsory for the genuine items.
"So it could be the thing you are using has the potential to be lethal."
He added: "It is estimated something like £550m a year nationally is lost to the Exchequer and those are taxes which have to be made up by the rest of us."
Alison Newbold, from the Anti-Counterfeiting Group, said: "It is on the increase with the recession hitting people's pockets badly.
"However our members are very keen to stop it at source and that is where East Midlands Airport comes in."
Most of the seized items will be recycled, officials said.
Related Internet Links
The BBC is not responsible for the content of external sites.