Welsh Water customers are urged to use water 'wisely'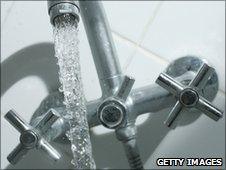 The recent dry spell has led Welsh Water to urge customers to use water "wisely".
The water provider said levels in most reservoirs were "satisfactory", but there had been very little rain in the past few months to replenish them.
Customers were being asked not to waste water.
Welsh Water provides water and sanitation services to 1.2m households in Wales and parts of England.
In a statement, Welsh Water said: "We've had an exceptionally dry few months with very little rain to replenish our reservoirs.
"While the water level in most of them is still satisfactory, this dry spell is being forecast to continue and so we are asking our customers to use water wisely and not waste it."
Welsh Water added that there had not been a hosepipe ban or other water restrictions in Wales for 20 years.
"Although Wales is generally considered to be a wet country, we have a limited number of reservoirs and they can be put under strain during long dry periods," it said.
"Water demand and supply can be closely balanced.
"We are asking people not only to be more water efficient during this dry period, but also to avoid wasting it throughout the year so that we can reduce the possible need for water restrictions in the future."
Since 2001 Welsh Water has been owned by Glas Cymru, a not-for-profit company, with all profits reinvested in the business.
Environment Agency Wales said it was concerned that continued low rainfall could lead to problems for wildlife.
It said: "The potential risk for a drought this summer is currently low, despite recent dry weather. Across most of Wales reservoir levels are generally close to normal.
"What could be of concern is if the hot weather and low rainfall continue, it will result in further drops in river flows and water levels which could cause problems for wildlife.
"Water is a precious resource, and we urge people and businesses to use water responsibly at all times of the year."
Related Internet Links
The BBC is not responsible for the content of external sites.