Photo clue in Fleetwood sex attacker hunt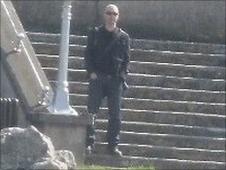 Police investigating the abduction and sexual assault of a 10-year-old girl in Lancashire have released a photograph of a man they want to speak to.
The girl was grabbed outside a sweet shop in Martindale Avenue, Fleetwood, at about 1315 BST on 9 May.
She was then driven to land off Rossall Lane where she was attacked.
Detectives said the photo of the man, who was carrying camera equipment, was taken at the pitch and putt on Fleetwood promenade on 15 April.
A £10,000 reward has also been offered by Crimestoppers for information leading to a conviction.
The man in the photo was dressed in dark clothing and wearing sunglasses. He is tall, slim and had camera equipment strapped to his back.
Det Supt Kevin Toole said: "It is crucial that we quickly identify and speak with this man to eliminate him from our enquiries.
"I would ask people to look closely at this picture and if they recognise him to contact us as soon as possible."
He added: "Significantly, this picture was taken in Fleetwood more than three weeks before the serious sexual offence on the little girl and we need the public's help to trace him.
"I would like to stress that this man could be entirely innocent and may be a keen or freelance photographer or simply there for recreational purposes.
"However, it is vital that people come forward if they are able to name this man so we are able to progress with our investigation and locate and arrest the man responsible for this appalling crime."
Police are also appealing to anybody who may have been taking photographs in or around the pitch and putt on the afternoon of 15 April to contact them.
Detectives revealed last week that they believe the attacker is missing several teeth, either side of his two front teeth.
The man is described as about 30, with short balding or shaved hair, a gaunt face and narrow chin.
He was wearing light blue jeans and a short-sleeved check shirt.
Officers believe he was driving a dark green or turquoise car, which had a pair of baby's blue trainers in it and smelled of smoke.
Anyone with information is being urged to contact police.
Related Internet Links
The BBC is not responsible for the content of external sites.