Government lays out fast net plan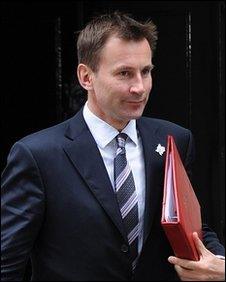 The UK's culture secretary has been talking tough on broadband in his first major speech on the issue.
Jeremy Hunt said that the previous government's commitment to a "paltry 2Mbps" (megabits per second) universal net speed was "pitifully unambitious".
He added that it was "a scandal" that nearly three million households cannot access even this speed.
He said that his goal was to provide Britain with the "best superfast broadband network in Europe".
Details on how this would be achieved were scant but could include new regulation to force water, gas and electricity companies to open up their ducts.
"The biggest cost involved in rolling out new fibre optic networks is digging up the roads," he said.
"Cut these costs and, straight away, investing in superfast broadband becomes a substantially more attractive proposition," he added.
He welcomed Ofcom's proposals to open up access to BT's ducts and telegraph poles.
Mr Hunt acknowledged that fast, reliable broadband is "increasingly essential".
He said that a national superfast network could add £18bn to the GDP and create at least 60,000 new jobs.
"Some people ask why we need these speeds when the iPlayer can manage on less than 1Mbps. They are missing the point," he said.
"Superfast broadband is not simply about doing the same things faster. It's about doing totally new things - creating a platform on which a whole generation of new businesses can thrive."
Education and medicine would be key drivers of fast networks, he said.
But he offered no new funding for such networks.
In his speech, Mr Hunt also said the government was committed to creating "vibrant local media".
The plans for an Independently Funded News Consortia (IFNC) were "misguided" and would be scrapped, he said.
Instead rules about cross-media ownership would be relaxed to allow local newspapers to own local commercial radio stations and set up local TV stations, he said.
Some of the money intended for the IFNC pilots would be used to fund superfast broadband, said Mr Hunt.
Despite criticising Labour's commitment to providing a minimum 2Mbps speed to all UK homes, the current government will honour it, using some of the digital switchover underspend to fund it.
Mr Hunt said that he was aware of the dangers of a rural/urban digital divide opening as companies such as BT and Virgin Media target their fast broadband at more economically viable areas such as towns and cities.
In order to prevent this and to work out how to fund rural broadband it will test super-fast broadband in three as yet unnamed rural areas.
"These are projects that will not only benefit those living in these areas, but that will provide us with vital information about how we can best target government intervention and make next generation broadband viable in even the most challenging areas," he said.
Details of these projects will be announced at an industry event in July and will be co-ordinated by Broadband Delivery UK, an organisation set up by the previous government.
Labour planned to fund rural broadband via a broadband tax, which would see every household with a landline pay an extra 50p per month but this was scrapped shortly before the election.
Last month the new government said that it may use some of the BBC license fee to part-fund the roll-out of superfast broadband.
It also announced that Ed Vaizey would take on the role of the UK's broadband minister and he will oversee the roll-out.
The UK is currently ranked 33rd in the world when it comes to broadband speeds, according to the OECD.
Related Internet Links
The BBC is not responsible for the content of external sites.