Horton hospital services 'recommended' in Banbury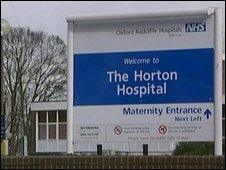 A plan to keep maternity and children's services at Banbury's Horton General Hospital look set to be approved next week.
The proposals already have the backing of Oxfordshire's Primary Care Trust.
The Oxford Radcliffe Hospitals (ORH) Trust is expected to implement the plan when it meets next Monday.
If approved, it would end a move to stop the bulk of the wards being moved to the John Radcliffe Hospital, Oxford.
However, there are still some concerns about the long-term running of the services and the need to recruit additional consultants rather than to rely on locum doctors.
Other recommendations include monitoring continuity of care and the retention of clinical skills.
It is also recommended that at the same time as committing to maintaining 24-hour maternity and children's services at the Horton, the ORH continues to strengthen the day treatment and community focus of its paediatric services across the trust.
Related Internet Links
The BBC is not responsible for the content of external sites.