England fans' World Cup hopes and fears
By Caroline McClatchey
BBC News, Heathrow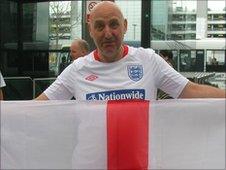 Some 25,000 fans are expected to follow England to South Africa for the World Cup, which kicks off on Friday. The biggest exodus will be on Tuesday and Wednesday, with about 2,000 fans checking into Heathrow over both days.
There was definitely something amiss at Heathrow Terminal Three.
There was an inflatable goal, a powerful penalty competition, and a band playing The Great Escape. But perhaps the strangest thing of all was a Scotsman in an England football shirt, draped in a St George's flag.
Billy Porter, a postman who lives in Swindon but hails from Dundee, has put his loyalties aside for his love of football.
"Well, none of the other four nations made it and I want to go to the World Cup," he said.
"I like football and I think it will be an exciting time in South Africa. They are very passionate about football."
The 57-year-old was flying to South Africa via Doha and he has six tickets for the World Cup, two of which are for England games.
As with most World Cups, questions have been raised about the preparedness of the venues and infrastructure but much of the focus this time has been on crime and personal safety.
However, Mr Porter said he had no concerns about going to South Africa.
"I just won't walk about flashing any valuables," he said. "You always get a few rogues no matter where you are."
Steve Holmes was part of the musical send-off, organised by the Foreign and Commonwealth Office (FCO) and Heathrow's owner BAA.
The 39-year-old from Sheffield is a drummer in the England Supporters Band - or as he put it the "most successful awful band in the world".
He loves his role - he has not missed an England game in 15 years - and is heading to South Africa on Thursday.
He said eight of them had forked out £10,000 for tickets, and the whole trip would probably cost him about £4,500.
"It's up there with Japan, which was very expensive," he said. "It took us some time to recover from that one.
"The food and beer should be a bit cheaper in South Africa and the accommodation is on a par with what you pay here."
He is looking forward to a "vibrant and colourful" World Cup, but mostly he is keen to experience an "African" World Cup.
Although a naturally glass-half-empty kind of man, his gut feeling was that England will make the final.
"The players are the same calibre but there's a different mentality," he said. "There's a focus and that's Fabio Capello."
In addition to an England-supporting Scotsman, two university students from Surrey were heading to South Africa to watch Chile play.
Tom Ellams, 22, and his brother Matthew, 20, from Epsom, failed to get tickets to watch England but they were excited nonetheless.
"It's going to be nuts," said Matthew. "We are massive football fans and we were disappointed not to get England tickets."
He spent a few weeks in South Africa during his gap year, and he said people do need to be more aware of their own safety.
"Whenever I went out in Johannesburg, one of us always drove and a parking attendant looked after the car," he said. "When I was there, some of the taxi drivers would drive around like idiots and were not trustworthy."
His brother Andrew has never been to South Africa and they will be staying out there until mid-July to take in the Kruger national park, among other sights.
"We are going to make the most of it," he said. "I think South Africa will put on a good party as long as they have the stadiums up and running."
Andrew was semi-confident about England's chances and thinks they will make the semi-finals, while his brother was more optimistic.
"We will make the final," he said. "There seems to be more passion involved which is ironic considering Capello is not English."
Steve Stables, from Barrow-in-Furness, was one of the lucky ones. He entered the FIFA draw and "won" three England tickets.
"Well, I actually had to pay for them," he said. "I was shocked when I got the e-mail and thought it was from my friends, so I sent an abusive message back saying stop winding me up."
The 39-year-old engineer said his friends were a "bit gutted", especially as he has just returned from a two-year round the world trip.
He is due back on 28 June but will stay out longer if his "bets come up" - he has money on England winning all of their group stage games and on Wayne Rooney scoring four goals with his head during the tournament.
The fans departing from Heathrow were given an information booklet which is part of the Foreign and Commonwealth Office's Be On The Ball safety campaign. It sets out just what the British embassy can and cannot do for them.
Campaign manager Phil Lord said they would not be able to replace lost match tickets, sell spare tickets or fly fans home if they missed their plane following an all-night celebration.
"If you experience a serious problem during the World Cup such as an accident, you are a victim of crime or lose your passport, the local British consulate can help you," he said.
Related Internet Links
The BBC is not responsible for the content of external sites.