Village concern at plans for all-night ball in Porthtowan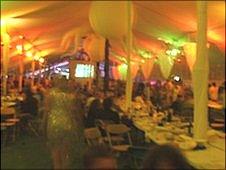 People in a Cornish village say they are concerned at plans by environment group Surfers Against Sewage (SAS) to hold an all-night ball.
The ball, to celebrate the group's 20th anniversary, is due to be held on the outskirts of Porthtowan for up to 4,000 people on 3 September.
People near the site said noise and traffic would cause much disruption.
SAS Executive Director Hugo Tagholm said the organisation would take all the concerns on board in its planning.
The group planning to submit the licence application to Cornwall Council later this week. If granted, the ball would go on all night, ending at 0600 BST on 4 September.
Nearly 70 villagers attended a public meeting on Monday night to raise their concerns with SAS.
One resident, Martin Pudney said he had 20 animals housed in stables which were within 300yds (274m) of the proposed site and that traffic and music could pose a threat them.
He said: "Horses can get very, very stressed and they don't like things that are out of the ordinary.
"In the week before the event they will see structures being built, marquees being put up, and that will upset them. That will then culminate in a weekend where there will be 11 hours of music."
'Transparent' organisation
Carolyn Jonas, who runs a caravan and camp site nearby, said she had contacted customers to warn them about the event.
She said: "I'm obliged to tell them that they will have to put up with it for the amount of time it's on, or try to find a holiday somewhere else."
Hugo Tagholm said that SAS wanted to make sure that people saw that "we do these things transparently".
He added: "We'll take on board these concerns and make sure that we factor them into the proposals that we're putting to the council and discussing with it.
"The important thing is that we go through the right processes and protocols to minimise disruption and mitigate against any concerns."
Related Internet Links
The BBC is not responsible for the content of external sites.