Sea sponge drug 'increases breast cancer survival'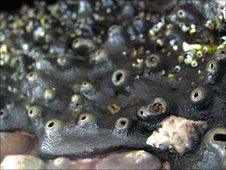 A drug based on extracts from sea sponges can extend the lives of women with breast cancer, a trial has found.
Researchers found that on average women with advanced cancer that had spread or returned lived 25% longer if they were given the new chemotherapy agent.
Of 762 women studied, average survival rose from 10.7 months to 13.1 months.
Results of the trial, which was led by Leeds University, were being presented at the American Society of Clinical Oncology annual conference on Tuesday.
The trial's lead investigator, Prof Christopher Twelves, said: "Until now, there hasn't really been a standard treatment for women with such advanced breast cancer.
"For those women who have already received all of the recognized treatments, these are promising results."
The researchers also found that the drug eribulin mesylate - which is a man-made copy of a natural product extracted from the marine sponge Halichondria okadai - was generally well tolerated by patients.
It has been submitted for regulatory approval in Japan, the US and Europe, but it is not yet available for routine clinical treatment.
"These results may establish eribulin as a new, effective treatment for women with late-stage metastatic breast cancer," Professor Twelves said.
Related Internet Links
The BBC is not responsible for the content of external sites.