Lions of Bath statues vandalised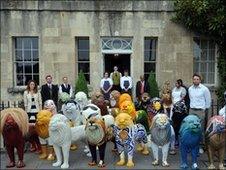 A number of life-sized lion statues in Bath have been vandalised, police have said.
The nine fibreglass sculptures were targeted over the weekend and have been removed for repair.
The 6ft-high works are part of the Lions of Bath 2010 arts project and were put on display in May.
A police spokesman said officers believed they had identified the culprits behind one attack from CCTV footage.
Decorated by artists including Winter Olympics gold medallist Amy Williams and Lord Bath, the 50 sculptures are on show around the city and are due to be auctioned for local charities in October.
Another 50 are to be exhibited at a later date.
A spokeswoman from the project said it appeared someone had tried to pick some of the lions up and dropped them, and one was pushed from a shop roof.
She urged people to report suspicious behaviour.
Related Internet Links
The BBC is not responsible for the content of external sites.