Ahmadinejad defiant ahead of UN nuclear sanctions vote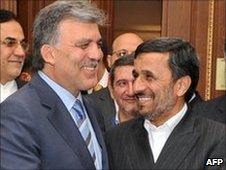 President Mahmoud Ahmadinejad has warned Iran will not agree to talks on its nuclear programme if a fourth round of UN sanctions are imposed.
Mr Ahmadinejad urged Russia not to side with Iran's enemies in the vote, which is due to be held on Wednesday.
The sanctions would tighten financial curbs and shipping inspections on Iran, and expand a limited arms embargo.
US Secretary of State Hillary Clinton said the proposed sanctions were "the most significant Iran has ever faced".
Mr Ahmadinejad, speaking on Tuesday in Istanbul where he is attending a regional summit, said that if the US did not change its position "the first ones to lose would be President Obama and the people of the United States".
He said approving the sanctions would close the door to resolving the controversy over Iran's nuclear programme through negotiations.
"I have said that if the American government and its allies think that they can raise a baton called a resolution and then sit and talk to us, they are strongly mistaken," he said.
Mr Ahmadinejad also warned a nuclear fuel-swap deal brokered by Turkey and Brazil was an offer that would not be repeated.
Security Council members Brazil and Turkey have also argued that fresh sanctions will not be productive, and are putting that case forward in a last-minute special session at the UN.
But the BBC's Barbara Plett at UN headquarters in New York says there is little doubt the resolution will be adopted.
US Defence Secretary Robert Gates, following talks in London with his British counterpart Liam Fox, said the clock was "ticking" for Iran.
Ahmadinejad urged Russia to be "careful not to be beside the enemies of the Iranian people".
Although Moscow has often cautioned against tough action on Iran, it is backing the current draft UN resolution.
Mr Ahmadinejad will travel to China on Friday and visit the World Expo in Shanghai, Beijing's foreign ministry said, but it is not clear if he will hold any talks with Chinese leaders.
There have been three rounds of UN sanctions against Iran, blocking trade of "sensitive nuclear material", freezing the financial assets of those involved in Iran's nuclear activities, banning all of Iran's arms exports and encouraging scrutiny of the dealings of Iranian banks.
The new set of proposed sanctions is aimed at putting pressure on Iran to stop enriching uranium.
The US and its Western allies fear that Tehran is secretly trying to build a nuclear bomb.
Tehran says its programme is aimed solely at peaceful energy use.
The new resolution's proposals include:
Prohibiting Iran from buying several categories of heavy weapons including attack helicopters and missiles
Urging all states to inspect cargo suspected of containing banned items to and from Iran in their territory, including seaports and airports
Calling on countries to block financial transactions and ban the licensing of Iranian banks if they suspect a link to nuclear activities
Increasing the number of individuals - reportedly including senior nuclear officials - and companies targeted with asset freezes and travel bans
While Turkey, Brazil and Lebanon are not expected to back this week's proposed UN resolution, none of them has a veto.
Western diplomats expect 12 countries, including all five veto-holding permanent council members, to vote for the measure.
Related Internet Links
The BBC is not responsible for the content of external sites.