Shares rise slightly after Bernanke comments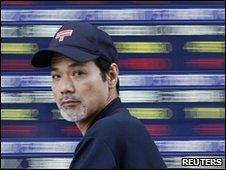 Shares have edged higher after Ben Bernanke said he was hopeful the US would not fall back into a double-dip recession.
Following the comments overnight by the chairman of the US Federal Reserve, Japan's main Nikkei index ended up 0.2% or 17 points.
On Monday, the Nikkei had plunged 4%, its biggest one-day fall for 14 months.
In Europe, the UK's FTSE 100 was up 0.2% in initial trading, while Germany's Dax had added 0.1%.
However, France's Cac extended losses, down 1.2%.
In Asia, Hong Kong's Hang Seng index climbed 0.4%, while Australian shares advanced 0.9%.
Shares in Shanghai, South Korea, Taiwan and Singapore had also risen.
"My best guess is we will have a continued recovery, but it won't feel terrific," said Mr Bernanke.
His comments came after Wall Street's main Dow Jones index ended Monday down 1.2%.
Japanese market analysts said shares in the country were also lifted by investors picking up bargains following Monday's big declines.