Cameron compared to King Lear over spending cuts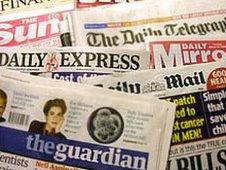 A day after David Cameron said public sector cuts would affect "our whole way of life", the papers assess his words.
The apparent attack by a fox on two baby girls in their beds features on several of Tuesday's front pages.
"Too many urban dwellers adopt a soft-hearted attitude to these predators", he says.
It has a "casual, callous and confused approach to corporate liability", it adds.
As the England football team prepare for their first World Cup match, the Guardian says players been offered some advice on penalty-taking by scientists.
But the Independent has identified a flaw in the research.
Related Internet Links
The BBC is not responsible for the content of external sites.