Spanish public sector on strike against austerity plan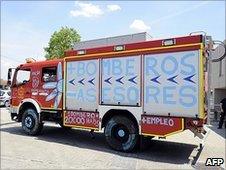 Spanish public sector workers have held a day-long strike in protest against an average 5% cut in pay that comes into effect this month.
The cuts are part of a government austerity package aimed at reducing the country's budget deficit, swollen by almost two years of recession.
Earlier, several thousand protesters gathered at Madrid's finance ministry blowing horns and chanting slogans.
Heavy rain hampered an evening rally through the city's streets.
Spanish unions said 75-80% of public sector workers had joined the day-long strike.
The labour ministry, however, put the figure at 16%.
"We are very angry because this is not only an attack to our rights and to our salaries - there is an attack to the welfare," protester Elisia Deoran told the BBC.
"It's an attack on all the public services."
Spain has suffered one of the toughest recessions in the EU, and has its highest unemployment rate. It recently had its credit rating downgraded, amid fears it could follow Greece into a debt crisis.
More than 2.5 million Spaniards work in the public sector, and the strikes were reported to be affecting hospitals and schools, fire stations and local government. Emergency responders were providing minimum services.
With a budget deficit currently running over 11%, the government is under pressure from the EU to slash spending.
In May, Spanish Prime Minister Jose Luis Rodriguez Zapatero announced a 5% cut in public sector pay, starting this month. Salaries will be frozen in 2011, pensions will no longer be adjusted for inflation and tax breaks for new parents will be dropped.
There were also big cuts in public investment and development aid. Some pensions were frozen.
The cuts are part of a 15bn euro (£12bn; $18bn) package of austerity measures also meant to reassure the financial markets that Spain will meet its debts.
Trade unions are angry that public sector workers are being penalised.
They accuse the Socialist Party of reneging on previous promises, and taking desperate measures now - after insisting for months that Spain would be relatively unaffected by the economic crisis.
The government is due to unveil on Wednesday plans to free up the labour market, by making it easier to hire and fire workers, in an attempt to stimulate growth.
The unions have threatened a general strike if those measures go ahead.
In recent months, Greece has been hit by mass strikes and protests over austerity measures imposed to combat a debt crisis that has shaken the 16-member eurozone.
Germany on Monday announced 86bn euros in cuts by 2014 - its biggest budget cut since World War II, and the latest in a series of austerity plans being hatched across the eurozone.
Britain, the Republic of Ireland, Portugal and Italy have also announced austerity programmes.
Related Internet Links
The BBC is not responsible for the content of external sites.