UN 'to adopt' fourth round of Iran nuclear sanctions
By Barbara Plett
BBC UN correspondent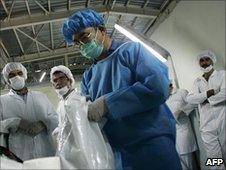 A resolution to impose a new round of sanctions on Iran is ready for a vote by the UN Security Council.
They target Tehran's nuclear programme, which Western nations suspect has military aims, claims Iran denies.
UN diplomats expect the resolution to be adopted by as early as midweek, even though some Security Council members may not support it.
The final version expands a limited arms embargo, and toughens financial restrictions and shipping inspections.
The exact timing of the vote depends on agreement of annexes listing individuals and entities subject to asset freezes and travel bans.
Diplomats say that could happen as early as Wednesday and there is little doubt the resolution will be adopted.
A number of states could abstain or vote against, but none of these have veto powers.
They include Turkey and Brazil, which say fresh sanctions would be counter-productive.
They argue that a nuclear fuel swap deal they brokered with Iran is a fresh opportunity for diplomacy.
At their request, the Council is expected to hold an extra meeting to discuss Iran ahead of the vote.
Related Internet Links
The BBC is not responsible for the content of external sites.