The new iPhone: Your Comments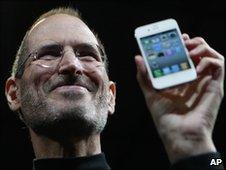 Apple has unveiled a redesign of its popular iPhone handset. BBC News Online readers have been telling us what they think of the iPhone4. Here is a selection of their comments.
I will be buying one when my contract ends for my last iPhone. Why? Because with all this change in technology that I have had from an early age, I now like consistency and reliability. Google Android could even be better, but I don't want to change again. Other companies seem to like redesigning and reinventing the wheel, Apple just keeps making the wheel better.
Dave Hacker, Bournemouth, UK
I recently switched over to a HTC Incredible running Google Android. Not only is this a better application of Smartphone technology, the service is better through the connection provider. Apple has really lost a great deal of market share through their exclusivity contracts with companies like ATT.
Baker Tee, Chicago, Illinois, USA
We will surely be buying this latest iteration of the ever popular phone. The addition of the front facing video camera adds a whole new dimension. Although video calling has been around for decades, the iPhone will be responsible for making it ubiquitous.
Shweta Kumar, Bethesda, Maryland, USA
Perfect timing! I was about to buy a 3GS but will wait the extra two weeks and get the new iPhone 4. It looks awesome
Should I buy another Apple iPhone? They are joking! I have had problems with mine from the beginning. Also, I'm unable to use it as a memory stick makes the 8GB a waste of money. The most expensive mobile phone mistake I have made.
Andrew MacArthur, Fushun, China
It looks excellent. As for the "walled garden" that has been much criticised, I consider it an important part of what I like about the phone. Our family will end up with five of these.
Tim, Southport, Australia
Interesting but I have just come back from a meeting which had and iPad in attendance which was much more useful.
James Spencer, Manchester, UK
It looks pretty but when I replace my current iPhone it will be with an Android handset. I don't like Apple's tight control of content.
Mervyn Thomas, Brisbane, Australia
Who gives a toss about phones? What a bizarre thing to get excited about.
I already have an iPhone and cannot imagine life without it. The new version is a huge improvement and I will definitely buy it.
Looks like there will be more new iPhones out each year than Manchester United shirts.
No, I will not buy one. The battery life is poor compared to other phones like the HTC Desire. I travel a lot and do not want to have to keep charging my phone every night. The Android operating system is fast overtaking the iPhone operating system in functionality: it doesn't tie you to just one manufacturer and you don't pay through your nose for an iconic brand name.
Related Internet Links
The BBC is not responsible for the content of external sites.