Q&A: Armed police in the UK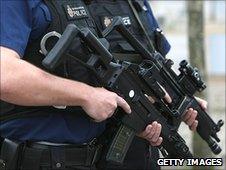 Gunman Derrick Bird pointed a gun at two police officers during his rampage through Cumbria which left 12 people dead, it has emerged.
The county's Deputy Chief Constable Stuart Hyde said the unarmed officers tried to pursue Bird but could do nothing to stop the killings.
The incident has raised questions as to whether officers should be routinely armed on patrol.
Q. Which UK police officers carry guns?
Officers must undergo special training in handling a variety of weapons before being given authorisation to join firearms teams.
There were 6,868 authorised firearms officers in England and Wales as of 31 March 2009, according to government figures.
Armed Response Vehicle units patrol around-the-clock in marked cars, carrying pistols and Taser stun guns.
Their duty is to deal with spontaneous incidents. Their cars carry safes containing weaponry, usually including a shotgun, a "baton round" launcher - firing "less lethal" plastic projectiles - and a carbine gun, which is similar to a rifle.
There were 16,564 such incidents in the year to April 2009, according to government figures.
Specialist firearms officers have additional skills in areas such as "close protection" duties - providing security for royal visits or senior politicians.
Some forces operate pro-active armed patrols with officers in plain clothes, using unmarked cars, to provide back-up to the standard armed units.
Firearms officers are trained in communicating with suspects and guidance says they should only shoot "to prevent an immediate threat to life".
They are generally trained to shoot the largest part of a suspect they can see - usually the torso - with the aim of immediate incapacitation.
Q. Have there been any exceptions?
In the past, the Metropolitan and Nottinghamshire forces have stepped up armed patrols in areas, in response to increased gun crime, for limited periods.
However, these patrols are not routine. Met Commissioner Sir Paul Stephenson has insisted there is no plan for them and that they would only be used in exceptional circumstances.
Q. How many firearms officers does each force have?
Because of the sensitivity of many targets in London, more than 2,700 Metropolitan Police officers are authorised to use guns.
Constabularies covering large counties with densely-populated cities within their borders, such as West Midlands, Nottinghamshire and Merseyside, tend to have between 130 and 150.
More rural areas, such as Derbyshire, Cambridgeshire, North Wales and Durham, have between 50 and 100. Cumbria has 97.
Q. Have there been calls for more armed officers?
This is a matter that is debated periodically. The last push for increased use of weapons came after Pc Sharon Beshenivsky was shot dead in Bradford in 2005.
The Police Federation, which represents rank-and-file officers, called for a 5% increase in the number authorised to use guns.
However, when it surveyed 47,328 members, 82% said they did not want officers to be routinely armed on duty. This was despite almost half stating they felt their lives had been "in serious jeopardy" in the previous three years.
The Federation's Paul Davis said this reflected members' desire to maintain the British tradition of "policing by consent" - as opposed to force.
"Our view has always been to have the right amount of officers on duty on any day to meet the assessed threat level," he said, adding that any decision to arm more police would need rigorous public debate.
"Arming all officers would damage the traditional image of the British Police Service which is held in such high esteem the world over, primarily because of the difficult and dangerous job officers undertake unarmed," it says.
Reactions to individual cases "rarely make a good basis for changing the law", he said, adding that the current arrangements allowed for flexible use of firearms teams.
Politicians have tended to agree, while occasional public polls have received mixed responses.
In April 2004, an ICM poll found 47% of the public supporting arming all police, with 48% against. Three years ago, think-tank Policy Exchange found 72% of 2,156 adults wanted to see more armed police patrols.
Q. Are there any alternatives?
Tasers - devices that administer an electric shock - are being increasingly used to "stun" suspects.
When they were first introduced in England and Wales, only firearms-qualified officers could use Tasers.
However, after a successful trial in 10 force areas, thousands more of the devices are being issued to new police teams with specialist training.
Mr Davis said the Police Federation supports extending the use of Tasers because they can help unarmed officers tackling offenders armed with some weapons.
However, he said they are never a substitute for firearms officers when dealing with someone wielding a gun - such as Bird.
They are also being trialled in Scotland. However, their use has been criticised by groups including Amnesty International, which calls them "dangerous weapons".