Clegg's 'slip' over Welsh powers referendum support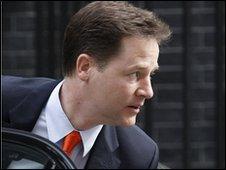 A "slip of the tongue" has been blamed for Deputy Prime Minister Nick Clegg's declaration that the UK government supports a yes vote in a referendum on more Welsh assembly powers.
His comment had put him at odds with Wales Office ministers, who say they will remain neutral on the issue.
But his officials later said he only meant to indicate his support for the holding of the referendum.
Mr Clegg's leads the Liberal Democrats, who do support a yes vote.
Prime Minister David Cameron says the vote should be held in 2011.
Mr Clegg was responding to a question from the Wrexham Labour MP, Ian Lucas in the House of Commons.
He said: "Yes, the government does support a yes vote in that referendum.
"As for the timing of the referendum the Welsh secretary of state and the first minister are meeting today with a view to identifying a date most likely in the first few months of next year to hold that referendum."
Both Labour and Plaid Cymru initially welcomed Mr Clegg's apparent declalation of support for a yes vote, which would see the people of Wales asked whether they would like to see more powers handed from Westminster to the assembly government.
But the UK government later denied that its policy on the referendum had changed.
Officials said Mr Clegg's remark was a a "slip of the tongue" and that he meant to indicate his support for the referendum, in which ministers are expected to remain neutral.
Plaid's Jonathan Edwards MP said it was an "embarrassing slapdown for Nick Clegg".
"How can it be that the minister for constitutional reform cannot give an accurate response on his government's position regarding the referendum campaign in Wales?" he said.
"Will Mr Clegg now clarify this 'slip of the tongue' for the Lib Dems or have the Lib Dems already been absorbed by the Tories in government?
"I'm sure there will be many disappointed Lib Dems who will want to know whether their leader is now retracting his party's support for a yes vote in the referendum."
Mr Cameron's announcement in last month's Queen's Speech that the referendum should be held in 2011, rather than this year, was greeted with disappointment by the assembly government.
It had asked Welsh Secretary Cheryl Gillan to hold the ballot in the autumn.
But she said too little work was done by the previous Labour government to hold it then.
Related Internet Links
The BBC is not responsible for the content of external sites.