Warning as North East building sites fail inspections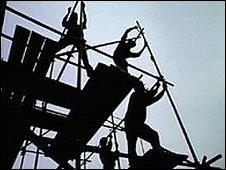 Work was halted on a number of construction sites in the north east of England following failed safety checks.
It follows unannounced visits to 77 contractors on 39 sites from Teesside to Northumberland by Health and Safety Executive (HSE) inspectors.
Concerns about working at height led to nine prohibition notices, which effectively stopped work.
Improvement notices were issued at a further nine sites.
These highlighted a need for workers to have asbestos awareness training or for the lack of personal protective equipment.
John McGill, an HSE inspector, said: "The construction industry is a challenging environment where each year workers are needlessly killed or injured.
"Working at height remains the biggest concern as it is the single greatest cause of workplace fatalities and slips and trips are the most common cause of injury."
Related Internet Links
The BBC is not responsible for the content of external sites.