Clegg says dissolution plans must avoid 'limbo'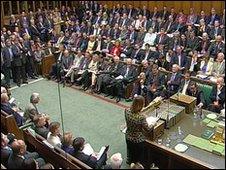 Nick Clegg has said new plans to require 55% of MPs to force a dissolution of Parliament must not be allowed to result in political "limbo".
The proposal, part of the coalition's plans to introduce a fixed-term Parliament, has been criticised by Labour and some Conservative MPs.
They argue it could leave a government which had lost the confidence of MPs able to cling onto office.
But Mr Clegg told MPs the coalition would proceed with care over the issue.
The deputy prime minister was speaking as a government minister in the Commons for the first time in a debate on the coalition's constitutional reform agenda - which he has responsibility for implementing.
The proposed "55% rule" was not contained in either of the Conservative or Liberal Democrat manifestos and attracted immediate criticism after being included in the two parties' coalition agreement.
It would mean that even if the government lost a motion of confidence in Parliament, it would not automatically result in a general election unless 55% of MPs backed a move to force an early dissolution of Parliament in a subsequent vote.
Critics have said this could result in a "zombie government" that had lost its authority but continued in power in some form.
Shadow justice secretary Jack Straw said the proposal was "ludicrous and undemocratic" and should be withdrawn.
"It is a partisan measure stitched-up by the coalition partners to protect themselves from each other while retaining the ability to go for an early election if they believed it was advantageous," he told MPs.
The proposal was based on "curious and spurious arithmetic" and referring to the Labour government's defeat in a motion of confidence in 1979, he said an election should always follow in such a situation "like night followed day".
David Cameron has said he is the first prime minister to agree to give up power over setting the election date and the move will give Parliament added powers.
Ministers point out that other legislatures with fixed-term Parliaments, including the Scottish Parliament, have a threshold to allow for early dissolution and the arrangement will provide necessary added stability.
Mr Clegg said MPs would have the opportunity to properly consider the proposal at length when it came before them.
He accused Labour of "wilfully misrepresenting" the coalition's plans and said the traditional motion of no confidence - which requires a vote of 50% plus one to be carried - would "remain in place, intact".
But he added: "We are already conducting detailed work on the steps that are necessary to remove any theoretical possibility of a limbo in which a government that could not command the confidence of the House refused to dissolve Parliament and give people their say."
"That would clearly be intolerable. Any new arrangements will need to build on existing conventions so a distinction is maintained between no confidence and early dissolution."
But, speaking in the same debate, Tory MP David Davis said he had serious reservations about "the significant constitutional change".
"It was not in the manifesto so the proposal is one which by definition is liable to be ill-thought through and needs greater consideration by this House," he said.
"Altering the circumstances under which Parliament can dismiss a failing government is a massive constitutional change which goes to the heart of Parliament's ability to hold a government to account."
While supporting fixed-term Parliaments, he said the dissolution proposal needed to be better explained.
"It is not the sort of approach I would expect from the new politics frankly," he added.
In his speech, Mr Clegg confirmed a committee set up to look at proposals to reform the House of Lords would meet for the first time next week.
But the deputy prime minister was forced onto the defensive after he appeared to suggest the government would back a yes vote in a future referendum on devolving more powers to the Welsh Assembly, contrary to stated government policy which backs a vote but does not take a position on its outcome.
Later - following confirmation from the Cabinet Office that the government's position had not changed - Mr Clegg told MPs that it was "of course" up to the people of Wales to decide on their future constitutional arrangements.
Shadow Home Secretary Alan Johnson said it had not been "a good start" for the deputy prime minister.