Societe Generale trader Kerviel says risks 'encouraged'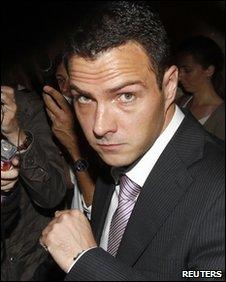 The alleged "rogue trader" at French bank Societe Generale has told his Paris trial that bosses "encouraged" him to take risks.
Mr Kerviel, 33, is blamed for losses of 4.9bn euros (then worth £4.3bn).
He has been under investigation since SocGen unveiled the losses in 2008, which it said were caused by unauthorised deals carried out by him.
He denies accusations of forgery, breach of trust and unauthorised computer use.
The former trader has always maintained the bank knew about the risky deals.
"The daily encouragement from my superiors encouraged me to continue," Mr Kerviel told the court, according to the AFP news agency.
In a book published last month, he claimed that his superiors turned a blind eye to his trading while he was earning money for the bank, but intervened when he began to lose.
The trial in Paris is expected to last three weeks. Mr Kerviel could face five years in prison as well as a fine of 375,000 euros if convicted.
SocGen announced in January 2008 that it had been forced to unwind 50bn euros of unauthorised deals it says were made by the young trader.
The revelation shook the financial markets, but was soon overtaken by the global sub-prime mortgage crisis, the collapse of Lehman Brothers and Bernard Madoff's Ponzi scheme.
SocGen was fined 4m euros by the French regulator for weaknesses in its internal controls and has since spent about 130m euros on tightening its systems.
The BBC's Christian Fraser in Paris says the case has come to epitomise for many in France everything that is seen as wrong with Wall Street capitalism.
It is a sentiment echoed by Mr Kerviel in his new book, The Spiral: Memoirs of a Trader.
He wrote that he was "at the heart of the great banking orgy", and that traders were "only ever given the same consideration as a cheap prostitute: a quick thank-you for a good day's takings".
Mr Kerviel's lawyer Olivier Metzner said he would "show that at no point did Jerome Kerviel abuse the confidence of the bank".
"Are the banking excesses due to Jerome Kerviel? Or are they due to a banking system?" Mr Metzner told France's Metro newspaper.
He added that he expected the trial to open in a "particularly tense atmosphere".
Mr Metzner is expected to argue that high-risk trades at SocGen were normal and that his client's managers knew what he was doing.
He may also claim that the bank decided to turn against Mr Kerviel in order to divert attention away from SocGen's large losses in the US sub-prime mortgage market.
Societe Generale's lawyer, Jean Veil, accused Mr Kerviel of "duplicity" for reassuring his bosses that nothing was wrong.
SocGen is also expected to submit a symbolic claim against its former employee for the recovery of the full 4.9bn euros that his trading position cost them.
The police investigation into Mr Kerviel concluded early on that he had not personally profited from his activities and had not committed fraud.
Mr Kerviel currently works as a computer technician earning 2,300 euros a month.
Related Internet Links
The BBC is not responsible for the content of external sites.