Darfur death toll rises to two-year high in Sudan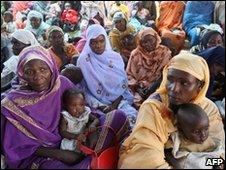 About 600 people died in fighting in the Sudan region of Darfur in May, the highest monthly toll since peacekeepers were deployed in 2008, officials say.
The joint UN-African Union peacekeeping force said most had died in fighting between Sudan's army and rebels of the Justice and Equality Movement (Jem).
The number of deaths has risen sharply since Jem walked out of peace talks last month.
The rebels had signed a preliminary peace deal and ceasefire in February.
This meant Sudan's first multiparty elections for 24 years held in April, were relatively quiet in Darfur.
But Jem then left the negotiations in Qatar, claiming the government had launched new raids.
A report by the Unamid peacekeeping mission said 440 people died in fighting in May between rebels and government forces, 126 in tribal violence and 31 in other violence, including murder.
The confidential document, seen by news agencies, said two rival Arab groups, the Rezeigat and Misseriya, had also clashed in Darfur since March.
On Monday Jem said it would continue to boycott peace talks and was clashing "continuously" with Sudanese army forces in south and central Darfur.
According to the UN, an estimated 300,000 people have been killed in Darfur and more than 2.6 million displaced since ethnic rebels took up arms in 2003.
The Sudanese government, however, says such figures are a massive exaggeration.
Sudanese President Omar al-Bashir is wanted by the International Criminal Court (ICC) for alleged war crimes committed in Darfur - charges he strongly denies.
Related Internet Links
The BBC is not responsible for the content of external sites.