Tram firm given dispute deadline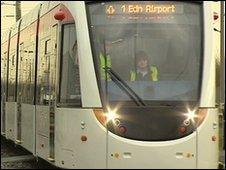 A firm at the centre of a dispute over work to install Edinburgh's tram system has been given a three-week deadline to find a solution.
German firm Bilfinger Berger has been told by Edinburgh City Council's transport convener its contract will be terminated if a solution is not found.
The row is over delays and projected overspends on the project.
The £545m project, originally due to finish in August 2011, is now seven months behind schedule.
Gordon Mackenzie, Edinburgh City Council's transport convener, said: "This city will not be held to ransom by this contractor any longer.
"There needs to be a move to settle the project's contractual dispute within the month.
"There would be worse things for the project than for this contract to be terminated.
"The management team at Edinburgh Trams have done what they can to find a reasonable way through this dispute, but now it's time for action.
"Week after week I'm told of excessive claims, month after month progress falls behind schedule, time after time they've been told a cost plus deal is not on. The people of Edinburgh deserve better."
David Mackay, chairman of Edinburgh Trams, said: "I totally understand Councillor Mackenzie's position.
"We have been hugely frustrated by the lack of progress in settling this dispute and the subsequent lack of progress on the ground."
Related Internet Links
The BBC is not responsible for the content of external sites.