£2.6m funding shortfall for NI mental health services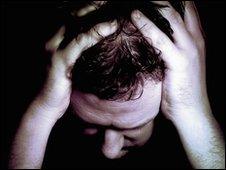 The Department of Health is to invest an additional £1m each year in psychological therapies - over £2m short of the recommended sum.
The £4.4m will pay for counselling or talk therapies with professional psychiatrists.
The 2009 mental health services review recommended an annual spend of £7m.
Dr Maria O'Kane, Royal College of Psychiatrists policy officer, said they were "deeply concerned" by the £2.6m shortfall.
"Through the Bamford Committee, looking at psychological therapies, we were offered £7m," she said.
"Today, it was announced we would only be getting an extra £1m. What we had hoped through the strategy was to be able to deliver treatments to people of all ages and to people with learning disabilities.
"It may well be that we now have to consider the numbers of people to be provided for as much smaller than initially anticipated."
This joint initiative between the Department of Health and Department of Social Development was supposed to help reduce those dependent on benefits.
However health professionals warn there will be longer waiting lists and they will be restricted as to whom they can treat.