Mayor's power to end Parliament Square camp questioned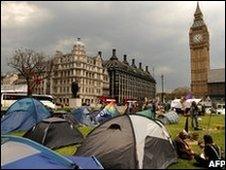 A High Court judge has questioned whether London's Mayor has the power to take legal action to evict protesters from a camp in Parliament Square.
Since 1 May tents and banners have transformed the green in Westminster.
Mr Justice Maddison said his provisional view was that Boris Johnson was "likely ultimately to succeed".
But he added there was room for "lively and legitimate argument as to whether or not he does have title to bring these proceedings".
Anti-war protesters, climate change activists, communists and anarchists have been living in the camp, dubbed Democracy Village, since 1 May.
Veteran anti-war campaigner Brian Haw, who has camped at the site since 2001, has previously won legal battles to be allowed to continue his demonstration in the Square.
Mr Johnson said he has a right to bring trespass action against the protesters as the Greater London Authority owns the green space.
But protesters argue that the only person who can take such an action is the Queen.
Mr Justice Maddison said the issue of eviction of "Democracy Village" needed to be "decided at the very earliest opportunity".
The case was adjourned and is now expected to return to the court on Friday.
Related Internet Links
The BBC is not responsible for the content of external sites.