Original Big Brother housemates 'coming back'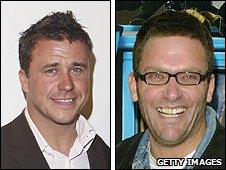 Housemates from the first series of Big Brother have indicated they will feature in the reality show's Channel 4 swansong this summer.
Craig Phillips and Nick Bateman told BBC Radio 4's Front Row programme: "We might show our face in there, yes."
But series one winner Phillips refused to confirm he has struck a deal, and Bateman said a contract is not signed.
Both men agreed the final series should have been a competition between the show's 10 previous champions.
Phillips added a "Big Brother gold" would also contain other memorable contestants including Bateman, who was dubbed "Nasty Nick" after being removed from the house for trying to manipulate the eviction nominations process.
"Perhaps even a Big Brother worldwide with the most notable contestants might work," said Bateman.
"But that's for the producers or a new channel to explore," he added, suggesting the Big Brother format will continue after it leaves Channel 4 for good.
Bateman also said that "some of the winners like Rachel Rice were slightly dull and you wonder why she won it."
The final series of Big Brother launches on Wednesday evening at 2100 BST.
The latest design for the house has already been unveiled, with a circus theme and even less privacy than usual for the new housemates.
The programme's creative director denied there were plans to put previous housemates back into the compound, but said it would have "some mad twists and turns".
In 2009, Bateman was invited to appear on Big Brother to mark its 10th anniversary, but pulled out after declining to take part in an assault course. His place was taken by Phillips.
The full interview with Craig Phillips and Nick Bateman will be broadcast on BBC Radio 4's Front Row programme on Tuesday 8 June from 1915 BST.
Related Internet Links
The BBC is not responsible for the content of external sites.