Biden says US seeking new ways to address Gaza crisis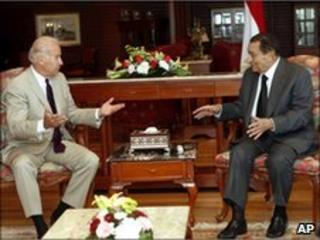 The US is looking for "new ways" to address Gaza's humanitarian crisis amid tensions over last week's deadly Israeli raid on a Gaza-bound aid ship.
Vice-President Joe Biden said the US was working with Egypt and other partners on fresh ways "to address the humanitarian, economic, security and political aspects of the situation".
He was speaking after talks in Egypt with Egyptian President Hosni Mubarak.
Earlier, Israel's navy killed four Palestinian divers off Gaza's coast.
There have been growing calls for Israel to end its blockade of the Gaza Strip amid international condemnation of its commando raid on aid ships heading for Gaza, which killed nine pro-Palestinian activists.
After the raid, Mr Mubarak ordered the Rafah crossing - Gaza's only overland crossing not controlled by Israel - to open for those Gazans needing medical attention as well as Palestinians heading for studies abroad.
Diplomatic resolution?
Reports from Egypt suggest the authorities there are to keep the Rafah crossing open indefinitely, although largely for the transfer of people rather than heavy cargo.
A senior Egyptian security official said only humanitarian and medical aid was being allowed to enter Gaza.
During their talks in the Red Sea resort of Sharm el-Sheikh, Mr Biden said he and Mr Mubarak had discussed Israeli-Palestinian peace efforts, the conflicts in Afghanistan and Iraq, the political situation in Sudan and Iran's controversial nuclear programme.
Their 90-minute meeting took place in an atmosphere of heightened regional tension coming in the aftermath of last week's raid, says the BBC's Yolande Knell in Cairo.
An Israeli government spokesman said no decision had yet been taken on an official government inquiry into the incident. Israel has already rejected calls from the UN for an international commission of inquiry.
But a spokesman for Ban Ki-moon said no party had yet closed the door on the UN secretary general's proposal for an international investigation, saying the UN had not received any official response from either Turkey or Israel, and remained committed to bringing together divergent views.
Defence Minister Ehud Barak confirmed there was an on-going internal military investigation, as a motion of no-confidence in the government - tabled by opposition lawmakers in the aftermath of the raid - was defeated.
Opposition leader Tzipi Livni accused the government of failing to take full responsibility for the raid.
While Mr Barak conceded it had not produced "the result we wanted", he said Israel had to take extraordinary measures to protect itself from the threat posed by Hamas, Lebanese-based Hezbollah and Iran.
On the issue of easing Israel's blockade of Gaza to alleviate the humanitarian crisis there, he said there was "only one" person in the coastal enclave who needed humanitarian assistance - an indirect reference to the captured Israeli soldier Gilad Shalit.
But the senior Egyptian security official said Israel's blockade must be reviewed, as it had neither secured Mr Shalit's release, nor stopped the smuggling trade along the Egypt-Gaza border.
He said construction of an underground barrier designed to block off the smuggling tunnels was expected to be completed within months.
Meanwhile Palestinian Authority leader Mahmoud Abbas was in Turkey for a regional security summit along with Iran and Syria.
Mr Abbas was expected to pay his respects to the nine activists killed last week, eight of whom were Turks and one a US national of Turkish origin.
The flotilla attack sparked global condemnation but defiance from Israel, which insisted it had the right to defend itself.
Turkish Prime Minister Recep Tayyip Erdogan accused Israel of "state terrorism", and called Gaza a "historic cause for Turkey".
France and Britain, among others, have called for Israel to accept a "credible and transparent" investigation into the deadly Israeli raid on 31 May.
While the US has said Israel's policy of blockading Gaza was unsustainable and needed to be changed, Israel's US ambassador Michael Oren has said the aid flotilla deaths should be investigated by an internal inquiry.
And Mr Biden has previously defended what he said was Israel's absolute right to deal with its security interest.
Divers killed
The Islamist movement Hamas said Monday's pre-dawn raid in waters off the Nuseirat refugee camp in central Gaza was an Israeli escalation to try to distract attention from last Monday's flotilla attack.
Israel's military said it had opened fire on a boat carrying "a squad of terrorists wearing diving suits on their way to execute a terror attack".
The al-Aqsa Martyrs' Brigades said four of its men were killed and a fifth was missing after the pre-dawn attack, which it said had targeted a training exercise off the Gaza coast.
The militant group - which is allied to President Abbas's Fatah movement - is one of many factions that often operate independently in the coastal enclave.
Gaza is run by Hamas, which seized control from Fatah in 2007.
Israel withdrew its forces from Gaza in 2005, but still controls the sea off the territory's coast.
Israeli foreign ministry official Yigal Palmour said the latest incident reinforced the need for Israel to maintain a tight cordon around Gaza.
Meanwhile, the Iranian Red Crescent has announced it will send two aid ships to Egypt for onward delivery to Gaza through the Rafah crossing later this week, Iranian state media report.
Another aid ship, the Irish-owned Rachel Corrie, was intercepted by Israel on Saturday and officials have begun deporting its crew and activists.
Correction (1 July 2010): Removing the word botched from the thirteenth paragraph.