New £3.8m Slough school created due to high birth rate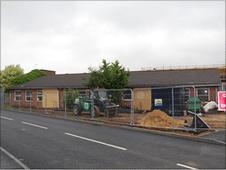 Children missing out on a reception place in Slough are to be helped by a new £3.8m school.
The new school will be on the site of the former Old Lea Junior School and will share the premises with the Iqra Muslim School in Wexham Road.
It will offer two new classes for reception age children.
A rising birth rate over the past six years means there is a shortage of places for children starting education.
The Lea Junior School's old buildings were due to be demolished after it closed in 2007.
Now, they have been refurbished to create the two new classrooms.
As these children move up through their education, more classrooms will be created for the following years' intake in the new school, which has yet to be given a name.
Slough Borough Council's strategic director of education and children's services has said the birth rate was "by far the biggest factor" in causing increases in the primary school intake.
Claire Pyper said: "In Slough the birth rate has increased by 873 children a year over the last six years. That's 29 reception classes and upwards."
Slough father Sean Kennedy said that he was finding it "very difficult" to find a place for his four-year-old son who will be five in August.
He moved to Slough in October, but has no nursery place and school place for his son.
"My four-year-old is having difficulty getting into nursery here in Berkshire," he said.
"I'm finding it very difficult.
"He's on Wexham's list at the moment, Wexham Court School, but it's looking very slim the chances of him getting in there this term."
Related Internet Links
The BBC is not responsible for the content of external sites.