New curriculum prompts fresh classroom approach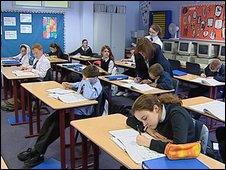 After the Summer holidays, schools in Scotland will be expected to be operating the new "curriculum for excellence."
But what exactly does the title mean and how will lessons differ from now?
In the second of three reports BBC Scotland's education correspondent, Seonag MacKinnon, looks at some of the changes which the new system is expected to bring.
It has been compared to a black cat in a dark room.
Others have described the new Scottish curriculum as Scotch mist.
One senior figure in Scottish education said: "It's so vague; it's anything anyone wants it to be."
For sure few seem able to explain what the Scottish government has branded the "curriculum for excellence".
Even the education secretary Mike Russell has admitted it is "a bit impenetrable" in parts.
He ordered some strategy documents be rewritten in the hope that more teachers and parents would understand it.
I suspect, however, that many looking at the current explanations on the website of the government's education agency Learning and Teaching Scotland may still struggle to get a handle on it.
While not claiming to be have any more comprehension of this issue than most in the education world, we offer the following pointers.
Out go the detailed national guidelines on what children should be taught.
Teachers now have greater freedom to teach what they and their pupils consider interesting and important. The idea is that both adults and children will therefore be more engaged and motivated in lessons.
Pupils will learn less knowledge but what they do learn will be in more depth.
Supporters of this say for too long children have been asked to absorb so much information they have just skated across the surface and forgotten it quickly.
Children will spend more time learning how to do things.
Pupils in Peebles High for example are learning about the characteristics of plants in biology lessons then designing and planting a garden.
The school which has a new build house in its grounds, also offers the chance to learn construction skills such as brick laying and plumbing.
The emphasis on learning skills is in the hope that children will be more than armchair generals when they leave school - they will be able to take something on paper and make it happen in the real world.
Pupils will make more use of computers. Instead of reading about the main industries of China in a text book or work sheet, they may be asked to find out for themselves on the internet.
The idea is that children in the 21st Century leave school able to operate effectively in the workplace and at university, when much information may quickly become out of date.
Subjects will be "joined up" instead of being in silos.
Children in Perth and Kinross have learnt about local birds, gone bird watching then composed poems about wild life with the help of a local writer.
Linking subjects such as English and nature is designed to discourage children from thinking along tram lines.
Children will receive credit for hands-on activities which may previously have just been optional after-hours activities e.g First Aid lessons or the Duke of Edinburgh scheme.
Behind this plan is the hope that more children will have the kind of rounded education that builds character.
In theory children will spend more time learning things, less time being tested and examined on what they have learned.
Supporters say pupils in upper secondary in Scotland spend much time being assessed and that this stunts and distorts their education.
However, an earlier proposal that pupils just sit one exam before they leave secondary instead of sitting exams in fourth, fifth and sixth year, has been abandoned.
Tomorrow in the third and final part of this series of reports on the curriculum, we will look at criticism - so pronounced the two main teaching unions are considering industrial action.
Related Internet Links
The BBC is not responsible for the content of external sites.