RockNess music festival benefits 'poor' village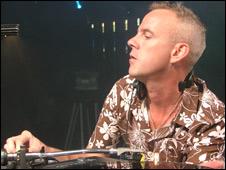 A music festival has brought benefits for a village that has missed out on the funding windfalls neighbouring communities have received.
Residents of Dores, near Inverness, set up a trust to manage the £100,000 donated by RockNess since it started four years ago in a nearby field.
Ella Macrae, former landlady of Dores Inn, said other communities have benefited from wind and hydro projects.
However, she said Dores had not been able to gain funds in the same way.
The community on the southern shore of Loch Ness has a population of about 230 people.
It lies on the opposite side of the loch from the A82, a trunk road and a tourist route linking central Scotland with Inverness.
Mrs Macrae said neighbouring communities had gained from the construction of wind farms and from the Glendoe hydro electric project near Fort Augustus.
She told BBC Radio Scotland's A Monster On My Doorstep: "We were one of the poor communities when you hear of some of the benefits people were getting from wind farms and hydro schemes.
"Dores was in a little corner of the south side of the loch when all around people were getting monies, then RockNess came along and here was something this community benefited from."
A development trust was set up to manage funds provided for the community by the organisers of RockNess.
It has an elected board of directors who consider bids for financial assistance.
The trust's Ruairidh MacLennan said the local primary school, youth clubs and heritage group have already successfully applied for funding.
Community first aid courses have also been funded.
This summer's RockNess will take place on Friday, Saturday and Sunday.
Performers include DJ Fatboy Slim, who appeared at the first festival four years ago.
He will join headliners The Strokes, Leftfield and Dove.
The event attracted more than 35,000 music fans last year.
Headliners last summer included the Prodigy, Dizzy Rascal, Biffy Clyro and US band Flaming Lips.
A Monster On My Doorstep is available on the BBC iPlayer for the next seven days.
Related Internet Links
The BBC is not responsible for the content of external sites.