Wirral Council meets over water problems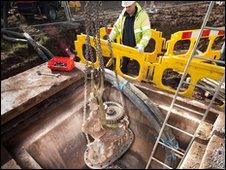 Council bosses are meeting with United Utilities later over the recent water problems in Wirral.
Thousands of homes had their water supply cut off - some for more than a week - after there were complications with a repair last month.
United Utilities has confirmed that affected residents will be compensated, but said a full investigation would be carried out.
The firm is meeting with the council at 1500 BST.
Wallasey councillor and cabinet member Lesley Rennie said the company did not do enough to keep people informed.
"They really did not get in touch with local people," she said.
"They tried a leafleting campaign, it failed miserably in my opinion not everybody was in receipt of one of the leaflets, it was just awful.
"People appreciate that they had a major engineering problem to deal with, but it certainly helps it people are kept informed fully along the way."
A spokesperson from United Utilities said: "We are meeting with the council today to discuss the recent water loss problems in Wirral.
"This will be an important opportunity to review the causes of the incident, the compensation arrangements we have put in place, and the lessons we have learnt for the future."
Related Internet Links
The BBC is not responsible for the content of external sites.