Northumberland ospreys produce three chicks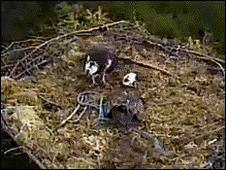 Three chicks have been spotted at the nesting site of a pair of ospreys at Kielder in Northumberland.
The birds also reared three chicks in the forest last summer, becoming the first to breed in the north-east of England for 200 years.
Rangers have been using small cameras which have been fitted to the purpose-built treetop nest in the forest.
The nest is only the second location in England where ospreys have recolonised naturally.
Malte Iden, ranger at Kielder Castle Visitor Centre, said: "We have been watching riveting CCTV coverage being beamed back to Kielder Castle.
"We can see the three chicks clearly and dad has been bringing them fish to build up their strength."
It is thought the chicks should make their first flights about seven weeks after hatching.
The nest - or eyrie - was built high in a tree in the 155,000-acre woodland by Forestry Commission rangers.
Elisabeth Rowark, director of the Kielder Partnership, said: "Every osprey born here carries the hopes of conservationists keen to see the bird make a come back.
"Last year's chicks all fledged successfully and a repeat of that would be brilliant."
The Kielder ospreys are thought to originate from the expanding Scottish population.
Ospreys were once distributed widely, but persecution resulted in the species becoming extinct in England as a breeding bird in 1840 and in Scotland in 1916. They re-colonised naturally in Scotland in 1954.
Related Internet Links
The BBC is not responsible for the content of external sites.